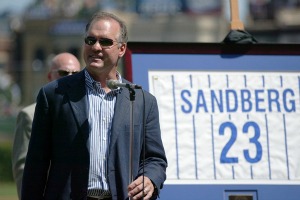 By C. Trent Rosecrans
On the day Theo Epstein confirmed his Lincoln Park Starbucks visit earlier this month, there's another sighting of a possible Cub in the Windy City -- the Chicago Tribune quotes two Chicago baseball fans as having seen Hall of Famer and potential Cubs manager Ryne Sandberg in downtown Chicago on Tuesday.
Of course, Sandberg played for the Cubs for 15 seasons and has a home in Chicago, so reading too much into his strolling down a Chicago sidewalk on a Tuesday afternoon is quite the leap in logic.
Still, Epstein was announced as the new President of Baseball Operations for the Cubs on Tuesday and incumbent manager Mike Quade is perceived as a lame duck, while Sandberg was a candidate to get the job last year when the Cubs hired Quade and has gotten rave reviews from baseball people for his work as a minor league manager.
During his introductory news conference, Epstein said he would speak to Quade this week, but was noncommittal about his manager's future.
Sanberg interviewed for Boston's Triple-A managerial position last season, but he'd already committed to manager Philadelphia's Triple-A team, so he turned down the job in Pawtucket. Sandberg managed four years in the Cubs minor league system, winning the Pacific Coast League Manager of the Year Award in 2010. Sandberg's Lehigh Valley team won the International League wild card, going 80-64. The IronPigs were 58-86 in 2010 before Sandberg's tenure with the team.
I've talked to several baseball people who have been very impressed with Sandberg's managerial style and aptitude for the game, so when he does get a managerial position -- and he will -- it will be because of his merits as a manager, not because of his exploits as a player.
For more baseball news, rumors and analysis, follow @eyeonbaseball on Twitter or subscribe to the RSS feed.