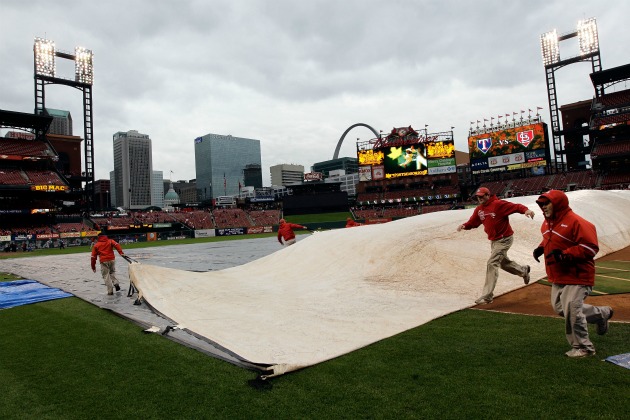 UPDATE:
Game 6 has been postponed


By C. Trent Rosecrans
The Cardinals have a meeting at 1 p.m. CT with Major League Baseball to determine if Game 6 of the World Series can be played Wednesday night, or whether to postpone it due to the threat of rain in St. Louis, Cardinals general manager John Mozeliak told 590 The Fan in St. Louis.
"I also think it makes a lot of sense not to play if it's going to be sort of stop-and-go baseball and we're going to be pulling the tarp multiple times," Mozeliak said. "Not being a weather forecaster, it doesn't look good based on what I read. But 1 p.m. I have a meeting where they're going to hone in on what's best for the fans."
Mozeliak said MLB would like to announce a rainout early, if possible -- "not to string it out."
This postseason has already been marred by a couple of bouts of rain. Game 1 of the ALDS between the Tigers and Yankees was suspended in the second inning and resumed the next day. Game 1 of the ALCS had two delays totaling 110 minutes and Game 2 was postponed a day.
Mozeliak also noted that if there was a rainout, it would help the Cardinals, giving ace Chris Carpenter an extra day of rest and the possibility of starting a Game 7, if it gets that far.
"I really think if we got to a Game 7, it wouldn't matter because you have all hands on deck, throwing everything out there including the kitchen sink, if it meant winning," Mozeliak said. "I wouldn't over think that too much, because everyone's available. I think it would be an exciting environment, but I'm not overly concerned who would start that game."
For more baseball news, rumors and analysis, follow @eyeonbaseball on Twitter or subscribe to the RSS feed.