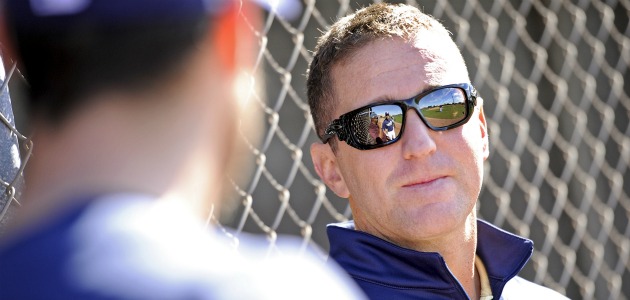 By Evan Brunell
In a move that could decimate the
Padres
for years to come, new
Cubs
president of baseball operations Theo Epstein is razing the Padres front office, sniping Padres GM Jed Hoyer and his assistant, Jason MacLeod, who will fill similar roles in Chicago. San Diego will get a player to be named later as compensation, expected to be a low-level minor leaguer.
This move has been expected for a while, but now that it's finally official, we can look at the shockwaves of this deal in San Diego. Lost in all the hubbub over Theo Epstein joining the Cubs and the
Red Sox
promoting Epstein's protege, Ben Cherington, is the impact these moves have on San Diego. The club is losing two of its top executives to what is now a "dream team" structure in Chicago, after Epstein went looking for lieutenants he trusted once Boston refused to allow any executives to follow Epstein to Chicago. While the move was done with the blessing of Padres CEO Jeff Moorad, who now gets to elevate Josh Byrnes into the GM seat, it's a major change that could derail the club.
Byrnes and Moorad have previous ties, when Moorad steered the ship in Arizona and brought Byrnes to town from Boston. The then-35-year-old was hired in 2005 (allowing Hoyer to rise to the assistant GM role with the Red Sox) and was given an eight-year extension prior to the 2008 season Under Byrnes' watch, the
Diamondbacks
did improve the from the season before, but that's pretty easy to do when the 2004 team lost 111 games. The team did go on to win a division title, but floundered for three seasons before Byrnes was cut loose partway through 2010.
The Diamondbacks' philosophy upon starting its franchise in 1998 was to go hard after top free agents and pay money for them to come to town. It paid off in 2001, with a World Series victory in a series that hasn't been matched since. However, all the deferred cash coming due to aging veterans hit the team hard, and Byrnes came in to try to turn it around. Under his watch, the D-Backs worked their way up from irrelevancy to winning the division title in 2007 with 90 victories. However, the club slumped after that season, all the way to last place in 2009 with 92 losses. When Arizona got 2010 off to a similarly poor start, that was it for Byrnes in town. In the meantime, the farm system suffered, as the club ranked No. 22 heading into 2011,
according to Baseball America
. However, as BA notes, 'Zona's system is rich in the low minors, which could eventually bear fruit. And of course, the Diamondbacks won the NL West in 2011, in no small part due to Byrnes' contributions.
Meanwhile, Hoyer and MacLeod have brought the Padres along rather nicely in the two years they had to replace Kevin Towers, who is now Diamondbacks GM. The Padres have a fantastic farm system, strengthened by the trade of
Adrian Gonzalez
to Boston and have made several savvy moves to boost the major-league team, such as plucking
Cameron Maybin
from the
Marlins
and seeing him develop into a quality centerfielder like he was supposed to. There's no question that losing Hoyer and MacLeod will hurt San Diego, but Moorad is extremely confident in Byrnes, who is still highly-regarded may even be better than before, having seen how things transpired in Arizona and learning from it
It's near impossible to speculate how well the Padres will do under Byrnes, but fans shouldn't despair. Byrnes understands how to work in a small market and will cultivate the farm system. Fortunately, the club has a well-established manager in Bud Black to oversee the team, so there won't be a risk of Byrnes making a mistake on who to lead the team on the field, having hired a green A.J. Hinch in Arizona and drawing the ire and scorn of many in the game (and yet, there's
none for Robin Ventura...
), with Hinch and the club showing a lack of fire that destroyed the team. (Hinch remains well-regarded and should manage again or become GM one day.)
Given how Byrnes and Hoyer come from similar schools of thought and worked under Epstein, it's unlikely Byrnes will rip up the processes that have been installed in San Diego over the last few years. Rather, he'll continue them, while putting his own stamp on the team. The rise of Arizona in 2007 and 2011 should make Pads fans confident in Byrnes, even though the loss of Hoyer hurts.
For more baseball news, rumors and analysis, follow @EyeonBaseball on Twitter or subscribe to the RSS feed.