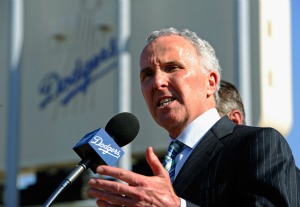 By C. Trent Rosecrans
Is Frank McCourt the worst person in the world?
Exhibit Y? McCourt's attorney is placing blame on Giants fan Bryan Stow for the savage beating that left him in a coma.
"I've been doing these cases for 23 years and I have never seen one yet which it didn't take at least two people to tango," attorney Jerome Jackson told ESPNLosAngeles.com.
Jackson has filed suit, on behalf of McCourt and the Dodgers, against the two men charged in the beating of Stow.
Stow and his family are the largest of McCourt's unsecured creditors, with the family's lawyer telling ESPNLosAngeles.com that damages could total as much as $50 million if a jury finds McCourt and the Dodgers liable for the beating on opening day.
"One of the things the jury will be asked to do is to determine what percentage of fault various individuals have for this event," Jackson told the website. "You're saying to the jury, 'They (the Stow family) are saying we're 100 percent liable. But dos that mean (Marvin) Norwood and (Louis) Sanchez who beat this guy up, have no liability? And does it mean Mr. Stow himself has no liability?'"
Jackson said if the case goes to court, he wants jurors to assign percentages of liability to the team, Mccourt, Norwood, Sanchez and Stow -- with financial damages paid out at those percentages.
The Stow family is saying the Dodgers were negligent in providing adequate security when Stow was beaten.
For more baseball news, rumors and analysis, follow @eyeonbaseball on Twitter or subscribe to the RSS feed.