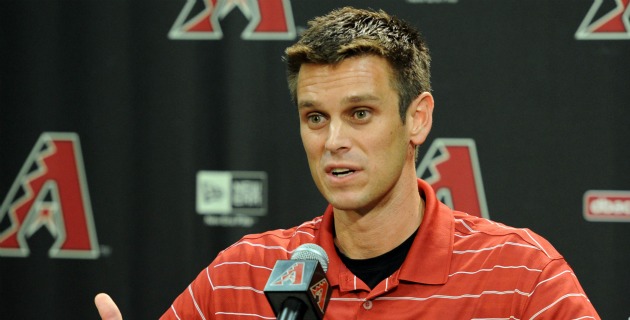 By Evan Brunell
The
Angels
introduced Jerry Dipoto on Saturday as their new general manager, signing him to a three-year deal with two option years. The 43-year-old will be a full-time GM for the first time.
He's coming off a successful 2011 season in which he was senior vice president of scouting and player development for the
Diamondbacks
. Dipoto, widely regarded around the game, had been the interim GM for most of 2010 Arizona season, and was a strong candidate for the
Orioles
GM job as well. Owner Arte Moreno said Saturday that he will give the Angels fresh ideas, something the team desperately needs.
Dipoto altered the future of Arizona significantly when he traded
Dan Haren
last season. He traded Haren to the Angels for pitcher
Joe Saunders
, Rafael Rodriguez, Patrick Corbin and Tyler Skaggs. The inclusion of Saunders, a lefty best suited to the back of the rotation, was head-scratching and the fact
Dipoto felt his win-loss record reflected his abilities
as a pitcher was maddening. Saunders went 3-7 the rest of the way in 2010 despite a lower ERA for Arizona (4.25) than with Los Angeles (4.62). This season Saunders bounced back with a 3.69 ERA, but isn't expected to return to Arizona, as incumbent GM Kevin Towers feels he will be overpriced.
Dipoto was a former reliever with the
Indians
,
Mets
and
Rockies
before he joined the
Red Sox
in 2003. He followed Josh Byrnes to Arizona after a brief sojourn in Colorado. When Byrnes was fired early on in 2010, Dipoto took over until Towers was hired.
Dipoto also made another trade during his time as interim GM, masterfully outwitting
White Sox
GM Kenny Williams in agreeing to trade starter
Edwin Jackson
-- ineffective, with a pricey contract -- for fellow starter Dan Hudson. Hudson broke out as one of the game's better (and cheapest) starters this year.
Dipoto will have a tough job on his hands in Los Angeles. The team has an up-and-coming list of players headed by Michael Trout, but is crippled financially. The Angels have one more year left of
Torii Hunter
at $18 million and
Bobby Abreu
at $9 million. And don't forget the $24 million owed
Vernon Wells
next season and the $74 million over the next three seasons.
That's an awful outfield for Dipoto to navigate through, and one of his first tasks will be how to give these players a chance to succeed (or be traded) while keeping room open for Trout and fellow young outfielder
Peter Bourjos
. Dipoto will benefit from having
Kendrys Morales
back, who should be ready to return after being knocked out in May 2010 with injury. But that will only create more of a logjam as
Mark Trumbo
has earned more playing time after bashing 29 homers as a rookie.
Once the Angels can get through 2012 its payroll flexibility will open wide up -- just in time for what could be a historic free agent class -- and there will be a bumper crop of prospects for Dipoto to work with. Given his background in scouting and player development, he figures to put an emphasis on developing Los Angeles' farm system. The Diamondbacks, under DiPoto, bore fruit early on but entered a stagnant period that is only just improving.
It's unclear just how much power he will have in L.A., as owner Arte Moreno is very hands on and manager Mike Scioscia wields a ton of power. How Dipoto can integrate himself into the Angels will go a long way in determining whether the Angels' recent fallow run is a reloading or a rebuilding.
For more baseball news, rumors and analysis, follow @EyeonBaseball on Twitter or subscribe to the RSS feed.