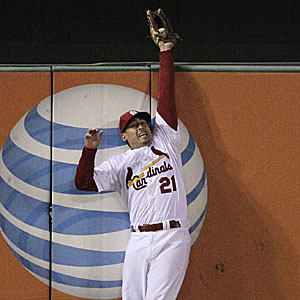 By Matt Snyder
ST. LOUIS --
Allen Craig
only played in 75 regular-season games, but
Cardinals
fans would tell you he made the most of his opportunities then, just as he did again throughout the seven games of the World Series. And Craig firmly believes in taking advantage of any chances he gets.
"It's all about just making the most of your opportunities," he said on the field minutes after catching the final out of World Series Game 7. "You can't let opportunities slip, especially in the World Series. I'm just glad to be a part of it."
Craig, 27, was most certainly a part of it. He was an integral part in all four Cardinals wins -- and in a loss they probably should have won.
In Game 1, Craig came up to pinch hit with a tie game and runners on first and third. He was facing
Alexi Ogando
, who was lights-out in the ALCS. Craig delivered a line-drive single to right, which ended up being the game-winning hit.
In Game 2, Craig came up in a nearly identical situation and again put the Cardinals ahead with a single to right off Ogando. The
Rangers
would rally and win in the ninth, but Craig got to Ogando twice in a row, and it's possible that ruined Ogando for the series -- he ended up allowing seven hits and seven walks in 2 2/3 innings in the World Series.
In Game 3, Craig got the scoring started with a solo home run in the first inning.
In Game 6, Craig woke everyone up in Busch Stadium with an upper-deck homer in the seventh. It felt like a ghost town before that shot, and the Cardinals would eventually come through with the epic comeback victory to avoid elimination.
And then, in Game 7, Craig not only homered again, but he also brought one back in the yard.
Nelson Cruz
hit a shot to deep left field and Craig went back and perfectly timed a jump
to rob Cruz of the postseason home-run record
. Center fielder
Skip Schumaker
had a perfect view of the ball's trajectory and knew Craig had a shot.
"Yeah, it was in the air long enough where I thought he had a chance to get to the wall in time," Schumaker said. "He timed it perfectly."
Then Schumaker volunteered the essential information on Craig.
"Without him in this series we don't win it."
Well put. On a team with
Albert Pujols
,
Chris Carpenter
,
Matt Holliday
,
Lance Berkman
and
Yadier Molina
, two of the most important cogs in the World Series were MVP
David Freese
and part-timer Allen Craig.
Just like Craig said, you have to make the most of your opportunities. And he definitely did in 2011, especially in the World Series.
For more baseball news, rumors and analysis, follow @EyeOnBaseball on Twitter or subscribe to the RSS feed.