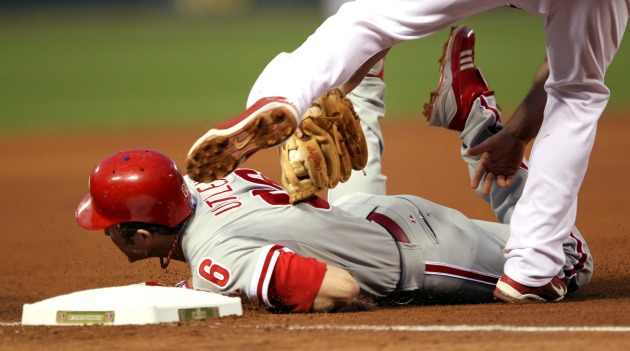 By Evan Brunell
Fielding is taking center stage in baseball, as
Rawlings released
their Gold Glove finalists on Monday, while
The Fielding Bible
came out with their winners.
ESPN2 will air the winners of the Gold Glove balloting in the first-ever televised Gold Glove results, which used to be sent out as morning press releases. The show will begin at 10 p.m. ET and last for an hour. There are three finalists per position, and the most notable omission is
Derek Jeter
from shortstop, and rightfully so. Jeter has long won Gold Gloves based more on the merits of popularity and offense, but that's nothing new across all of Gold Glove voting, as Gold Glove award voting has been that way for some time. Jeter has won five awards, including taking each of the last two seasons.
Now, it will be either the
Angels
'
Erick Aybar
,
J.J. Hardy
of the
Orioles
, or the
Indians
'
Asdrubal Cabrera
who wins the AL Gold Glove. The full list of finalists can be found below, but first: The Fielding Bible.
"Quite simply," said John Dewan, the founder of The Fielding Bible, "our intention is to stand up and say, 'This is the best fielder at this position in the major leagues last season. Period.'"
Dewan uses a star-studded panel of voters that includes people such as Peter Gammons, former major-leaguer Doug Glanville and noted sabermetrician Bill James to determine the winners of each award, which more accurately reflect the best defenders in the league. The Bible differed from Gold Glove voting up until this season in that the Bible differentiated between left, center and right field while the Gold Glove used three generic "outfield" spots. That's changing this year, but another difference remains: if a player switches leagues during a season he is not considered for a Gold Glove. That's not the case for the Bible, which only makes one selection per position.
Below, you can find the winners of The Fielding Bible's defensive awards, plus Dewan's thoughts on each, as supplied in a news release. Only
Albert Pujols
, who won at first base, and
Justin Upton
in right field, were not finalists for a Gold Glove award.
C:
Matt Wieters
, Baltimore Orioles (first-time winner) -- also a Gold Glove finalist
"After
Yadier Molina
of the
Cardinals
won the previous four Fielding Bible Awards, Matt Wieters wins his first. And it wasn't even close in the voting -- Wieters' 97 points to Molina's 74. When you look at the numbers, it wasn't close there either. Prior to 2011, Molina has thrown out 42 percent of baserunners. On top of that, he has picked off an average of six baserunners per year. In 2011, Yadier dropped to 25 percent caught stealing and only picked two runners off. Wieters threw out 36 percent of basestealers in 2011. But it was the pitcher handling department where Wieters really excelled. Nine of his 14 runs saved are estimated for his pitcher handling, while Molina also had a down year in this area, costing the Cardinals six runs."
1B: Albert Pujols, St. Louis Cardinals (five-time winner)
"It was no fluke," Dewan says about a play in the NLDS, when Pujols gunned
Chase Utley
down at third base (pictured). "Since Baseball Info Solutions started tracking good fielding plays (GFP) in 2004, Albert Pujols has 37 GFPs on throws. The next best first basemen are
Todd Helton
of the
Rockies
with 16 and three others with 15 --
Mark Teixeira
of the
Yankees
,
Prince Fielder
of the Brewers, and
Lyle Overbay
of the [
Diamondbacks
]."
2B:
Dustin Pedroia
, Boston
Red Sox
(first-time winner) -- also a Gold Glove finalist
"Dustin wins his first Fielding Bible Award with 97 of a possible 100 points. He took seven first-place votes (out of 10) and was voted second by the other three panelists. Pedroia has done well in voting in each of the last four years. He lost in a tie-breaker to
Aaron Hill
, then of the
Blue Jays
, in 2009 (each had 76 points), placed fourth in 2008, and seventh in 2010." Also, Pedroia had 44 GFP, best in baseball.
3B:
Adrian Beltre
, Texas
Rangers
(three-time winner) -- also a Gold Glove finalist
"Adrian Beltre received eight first place votes beating last year's winner,
Evan Longoria
of the
Rays
, 98 to 90. It doesn't matter where he plays: Los Angeles, Seattle, Boston, and now Texas. Beltre excels year after year. He has saved an estimated 156 runs defensively for his teams since 2003, an average of 17 runs prevented per year. That was his exact total for the Rangers in 2011, which translates into about two extra wins per year for his clubs, just on defense."
SS:
Troy Tulowitzki
, Colorado Rockies (three-time winner) -- also a Gold Glove finalist
"Tulowitzki goes back-to-back, two Fielding Bible Awards in two years, and his third award of his five-year MLB career. Tulo is especially adept at making plays to his right. The Plus/Minus System credits him with 45 more plays in the shortstop hole compared to an average MLB shortstop over his five seasons. Tulowitzki also excels in another area. He had 67 GFP in 2011 compared to only 29 defensive misplays or errors. That +38 figure was tops in baseball."
LF:
Brett Gardner
, New York Yankees (second-time winner) -- also a Gold Glove finalist
"Brett Gardner is the new
Carl Crawford
. Gardner repeats as the Fielding Bible Award winner in left field after Crawford won three of the four previous years. It was nearly unanimous as Gardner took nine first-place votes and one second. Gardner's 22 defensive runs saved tied him with center field winner
Austin Jackson
of the
Tigers
for the most runs saved by an outfielder in 2011. That's an extraordinary total for a left fielder. Normally the best center fielders save significantly more runs defensively than the best left fielders. For Gardner, having a center fielder's range gives him a tremendous advantage, but he has an excellent throwing arm as well. He has saved the Yankees 13 runs (out of his 35 total) with his arm over the last two years."
CF: Austin Jackson, Detroit Tigers (first-time winner) -- also a Gold Glove finalist
"He topped all center fielders with 21 runs saved in 2010, but Austin Jackson had to do it even better (with 22 Runs Saved) in 2011 to earn his first Fielding Bible award. Jackson has made 63 more plays than an average center fielder over the last two years. That's an incredible total. It's on the plays over his head that AJ really excels (43 of the 63). Making 43 more catches than an average center fielder on balls hit deep is where those lofty runs saved totals come in, as he is saving doubles and triples when he makes these catches."
RF: Justin Upton, Arizona Diamondbacks (first-time winner)
"Justin Upton wins his first Fielding Bible award in 2011, unseating three-time winner
Ichiro Suzuki
of the
Mariners
. With Ichiro's down year defensively (he finished 10th in the voting), panelists were divided in their balloting with seven different right fielders receiving first place votes. Upton received three first-place votes,
Jason Heyward
of the
Braves
two, with one apiece for
Mike Stanton
of the
Marlins
,
Torii Hunter
of the Angels,
Andre Ethier
of the
Dodgers
,
Jay Bruce
of the
Reds
, and
Nate Schierholtz
of the
Giants
. Like Austin Jackson of the Tigers in center field, Upton excels on deeply hit balls, where he fielded 18 more balls in 2011 than the average right fielder would have, based on the depth, angle and velocity of those hit to him."
P:
Mark Buehrle
, Chicago
White Sox
(three-time winner) -- also a Gold Glove finalist
"It's a third consecutive Fielding Bible Award for Mark Buehrle. It is remarkable how Buehrle puts up excellent defensive runs saved numbers year after year. He saved an estimated nine runs defensively for the White Sox in 2011, tops among all pitchers in baseball. He had eight saved runs in 2010, 11 in 2009, and has averaged about eight per year going back to 2004. His control of the running game is uncanny. Only three baserunners were successful stealing bases in 2011 with Buehrle on the mound, while nine of them were caught stealing or picked off by Buehrle. He covers his position as well, with 15 of his Runs Saved guarding the territory around the mound over the last three years."
And now, your Gold Glove finalists:
Gold Glove Finalists
Pos.
American League
National League
C
Matt Wieters, BAL
A.J. Pierzynski, CWS
Alex Avila, DET
Yadier Molina, STL
Brian McCann, ATL
Carlos Ruiz, PHI
1B
Adrian Gonzalez, BOS
Casey Kotchman, TB
Mark Teixeira, NYY
Joey Votto, CIN
Gaby Sanchez, FLA
James Loney, LAD
2B
Dustin Pedroia , BOS
Robinson Cano, NYY
Ian Kinsler, TEX
Brandon Phillips, CIN
Neil Walker, PIT
Omar Infante, FLA
SS
Erick Aybar, LAA
J.J. Hardy, BAL
Asdrubal Cabrera, CLE
Troy Tulowitzki, COL
Ronny Cedeno, PIT
Alex Gonzalez, ATL
3B
Adrian Beltre, TEX
Kevin Youkilis, BOS
Evan Longoria, TB
Placido Polanco, PHI
Daniel Descalso, STL
Pablo Sandoval, SF
LF
Alex Gordon, KC
Brett Gardner, NYY
Sam Fuld, TB
Gerardo Parra, ARI
Ryan Braun, MIL
Matt Holliday, STL
CF
Jacoby Ellsbury, BOS
Austin Jackson, DET
Peter Bourjos, LAA
Matt Kemp, LAD
Shane Victorino, PHI
Chris Young, ARI
RF
Nick Markakis, BAL
Torii Hunter, LAA
Jeff Francoeur, KC
Andre Ethier, LAD
Carlos Beltran, NYM/SF
Jay Bruce, CIN
C
Mark Buerhle, CHW
Dan Haren, LAA
Fausto Carmona, CLE
Clayton Kershaw, LAD
Hiroki Kuroda, LAD
Kyle Lohse, STL

For more baseball news, rumors and analysis, follow @EyeonBaseball on Twitter or subscribe to the RSS feed.