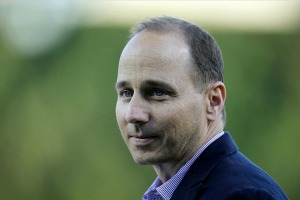 By C. Trent Rosecrans
Brian Cashman is staying in New York for at least three more years. Yankees ownership announced Tuesday that it had re-signed its general manager through the 2014 season.
Cashman, 44, has the third-longest tenure among active general managers and is the longest-serving Yankees GM since Ed Barrow, who was in charge of the team from 1920 to 1945.
The Yankees are 1,369-895-2 since Cashman took over the team on Feb. 3, 1998. His teams have appeared in the playoffs in 13 of his 14 seasons as GM with six World Series appearances and four titles.
While critics note "anyone" could win with the Yankees payroll, the Red Sox, Mets and Cubs have proven that's not necessarily true. Cashman is one of the game's best general managers, and he will continue to be so for at least three more years. And it appears there may be very little drama this offseason in the Bronx -- a welcome sight after last year's Derek Jeter soap opera. The team has already signed extensions with Cashman and CC Sabathia, while picking up the options on Robinson Cano and Nick Swisher. Now all that they need is a couple of starting pitchers and everything should be peachy.
For more baseball news, rumors and analysis, follow @eyeonbaseball on Twitter or subscribe to the RSS feed.