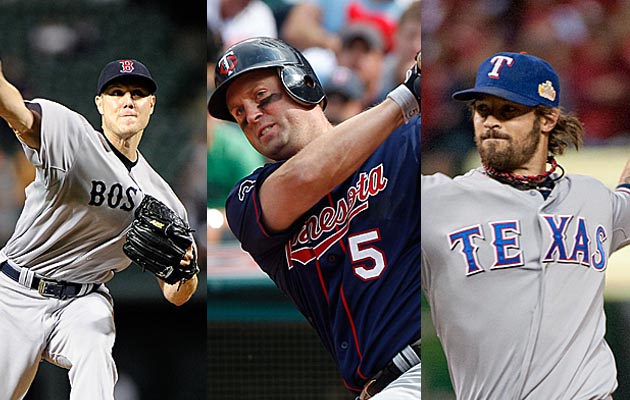 By Matt Snyder
With open free agency set to hit us at 12:01 a.m. Thursday, it's worth taking a quick look at what every single team is going to be looking for. We've already done detailed breakdowns in the R.I.P. series, so here are some quick hitters for the American League:
Baltimore Orioles | R.I.P.
Needs: Could use a corner infielder, depending upon where they want to play
Mark Reynolds
(including DH). Pitching, starting and in relief.
Money to spend? They should have a decent amount. Between
Derrek Lee
,
Vladimir Guerrero
,
Mike Gonzalez
,
Koji Uehara
and
Cesar Izturis
, that's roughly $25 million coming off the books from the beginning of last season. Some arbitration raises are coming, but we'll see how much owner Peter Angelos wants to spend. The Orioles have already raised payroll about $20 million since 2008. Don't count out a run at
Prince Fielder
or some other big name.
Boston Red Sox | R.I.P.
Needs: Pitching, right field.
Money to spend? Will new GM Ben Cherington be more careful on big free agent deals after seeing some colossal failures in recent years? It's hard to tell, but if the Red Sox let both
David Ortiz
and
Jonathan Papelbon
walk, they'll be able to spend. The two combined to make over $24 million last year.
J.D. Drew
's $14 million is gone just as
Jason Varitek
and
Tim Wakefield
are free agents. A few arbitration raises should still leave the Red Sox about $30 million short of last season's payroll. So there's room to play.
New York Yankees |
R.I.P.
Needs:
Pitching, pitching, pitching
Money to spend? With
Jorge Posada
's hefty contract coming off the books, yes, you can expect the Yankees have money to spend. Do they go large and land
C.J. Wilson
? I'd guess there are serious discussions about doing so. He's left-handed, which is a great fit for Yankee Stadium. Maybe
Mark Buehrle
is a fall back and posting for Yu Darvish is entirely possible. One thing is for sure: Getting
CC Sabathia
nailed down before free agency began was huge.
More Free Agency
Position rankings
Tampa Bay Rays | R.I.P.
Needs: Catcher, first baseman, shortstop, bullpen help
Money to spend? Not much. The situation in Tampa Bay is dire, so if the Rays are really looking to shore up that many positions via free agency, it's going to have to be on the cheap. And they might even have to trade
James Shields
to do so. Trading
B.J. Upton
is a no-brainer in order to save money. In dealing those two, they could plug
Desmond Jennings
in center and
Matt Moore
in the rotation and then fill the holes cheaply with guys like
Johnny Damon
and
Casey Kotchman
(which they did last season).
Toronto Blue Jays | R.I.P.
Needs: All kinds of pitching, second base.
Money to spend? The belief is they have a lot of money to spend between this offseason and next. Do they make a big splash now or wait? They could make a run at Prince Fielder or David Ortiz, but the offense doesn't need near as much help as the pitching -- plus, with
Edwin Encarnacion
coming back 1B and DH seem to be filled. They will probably hit on a closer like Jonathan Papelbon or
Ryan Madson
. As for the
second base crop, it's pretty thin
. Maybe
Ramon Santiago
or
Jamey Carroll
? If they really wanted to go for it, they could move
Brett Lawrie
back to second base and go after
Aramis Ramirez
, but that's not happening.
Chicago White Sox | R.I.P.
Needs: To get younger
Money to spend? Not much. The White Sox had a huge payroll last season and got nothing to show for it.
Paul Konerko
,
Adam Dunn
,
Alex Rios
and
Jake Peavy
will make over $55 million combined and there don't appear to be any areas where a quick fix would make the White Sox a ton better than last year. Instead, they should stay away from free agency and instead start trading veterans to stock a barren farm system.
Cleveland Indians | R.I.P.
Needs: catcher or first base (depending on where they play
Carlos Santana
), left field (
Michael Brantley
likely moves to center with
Grady Sizemore
gone)
Money to spend? The Indians have a lot of good, young talent but it's all already arrived at the big-league level (or been traded away). So they're ready to make a move in the Central, as evidenced by trading for veteran
Derek Lowe
. There's some extra revenue from the increased attendance in 2011, but they still can't come close to affording Prince Fielder or
Albert Pujols
. Maybe
Carlos Pena
? He's a good defensive first baseman and hit 28 homers with 74 RBI and an .879 OPS if you lop off his dreadful start in 2011 (that listed stat line began May 3). If not Pena, Casey Kotchman is a decent fall back.
Detroit Tigers | R.I.P.
Needs: Second base and third base (or shortstop, with
Jhonny Peralta
shifting positions).
Money to spend? With some big contracts (like
Magglio Ordonez
and
Carlos Guillen
) coming off the books and a revenue stream from a season that saw the Tigers hit the ALCS, you can bet they'll be spending.
Jose Reyes
or Aramis Ramirez would work well, but it seems like a top-of-the-order guy makes more sense, considering Jim Leyland was forced to keep trotting strikeout machine
Austin Jackson
out in the leadoff spot and the Tigers already have
Miguel Cabrera
and
Victor Martinez
in the middle. Also, the Tigers could also go cheap in the infield and grab someone like
Michael Cuddyer
for right field. We'll see.
Kansas City Royals | R.I.P.
Needs: Starting pitching, relief pitching, bench depth
Money to spend? The Royals haven't yet made their move in the AL Central, so revenues haven't greatly increased just yet. They'll be able to spend some money, but mostly the type that can land spare parts while the Royals wait on the young wave to thrive. Reports have indicated general manager Dayton Moore wants to trade some of the Royals' many coveted prospects for a good starting pitcher, so expect K.C. to be more active in hot stove trade talk than in major free agency signings.
Minnesota Twins | R.I.P.
Needs: Closer, setup men, corner outfielders and to stay healthy
Money to spend? If the Twins bring back both
Jason Kubel
and Michael Cuddyer, they'll be a bit strapped for cash. If not, they'll have plenty to spend, as those two leaving along with
Joe Nathan
and
Matt Capps
frees up lots of money. Expect the Twins to be aggressive in seeking relief pitching help, even possibly willing to trade other pieces to shore up the back-end of the bullpen.
Los Angeles Angels of Anaheim | R.I.P.
Needs: Catcher (hmm, if only they didn't trade a certain postseason star), pitching depth
Money to spend? Nope, they're pretty much on lockdown, as owner
Arte Moreno has said the payroll will decrease
-- and they're already saddled with lots of huge veteran contracts. Even if they could find takers for some of the overpaid veterans, they'd have to give significant salary relief. As things stand, the Angels in 2012 probably greatly resemble the Angels of 2011.
Oakland Athletics | R.I.P.
Needs: An entire outfield and third base.
Money to spend? The A's have over $23 million in salary coming off the books, but the question is if Billy Beane attacks things in a similar manner to how he did last year with the offense. Several modest one-year contracts were handed out. Why not instead go young with
Michael Taylor
,
Chris Carter
and
Brandon Allen
while using the free agent money on one bigger bat (Aramis Ramirez?
Carlos Beltran
?)? The problem there lies in convincing a major free agent to play in Oakland, so the guess is Beane again signs a few cheaper guys like
Josh Willingham
and
Hideki Matsui
last season.
Seattle Mariners | R.I.P.
Needs: Pitching depth, offensive firepower.
Money to spend? There's a modest amount of money leaving the payroll while Ichiro is signed for $18 million in 2012 before he's done. So the Mariners could actually backload deals if they want to make a huge splash. Could they get crazy and go after two big offensive names? They've done so in the past (the
Adrian Beltre
and Richie Sexson signings). Expect to hear the Mariners in rumors for Prince Fielder and Jose Reyes, and probably trickling on down to the likes of Carlos Beltran and
Jimmy Rollins
. Now, whether or not they can convince any of those guys to sign, we'll see.
Texas Rangers | R.I.P.
Needs: Bullpen depth
Money to spend? A modest amount. It's likely the Rangers let C.J. Wilson walk and fill in the rotation either in-house (
Neftali Feliz
,
Alexi Ogando
,
Scott Feldman
) or by signing Japanese phenom Yu Darvish. From there, the Rangers could make
Mike Adams
the new closer and focus on setup men, or go after a free agent closer like Jonathan Papelbon or Ryan Madson. Keep in mind, the Rangers don't have to change much, considering they were one strike away from a World Series title twice and the overwhelming majority of the team is returning intact. Plus, the revenues from going to two consecutive World Series will give them the ability to increase the payroll should they wish.
For more baseball news, rumors and analysis, follow @EyeOnBaseball on Twitter or subscribe to the RSS feed.