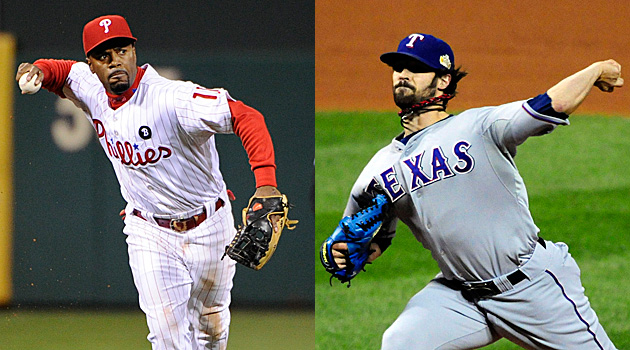 By Matt Snyder
Another free agent crop means we have another group of players about to be woefully overpaid by some franchises trying to make a big splash. Here's a handful of players who will likely be paid more than they're going to be worth over the next year to half-decade.
C.J. Wilson, SP
He'll be 31 when next season starts and he's only been a big-league starter for two seasons. Considering the market for starting pitchers, some team is going to have to give him ace money. He has been good in long stretches over the course of the past two seasons, but it's still not a huge track record. Plus, he's been playing in front of one of the best defenses in baseball, especially strong at second, third and short. What if he signs to pitch for a team with range issues? Lots of those groundouts become base hits and he's a bust, that's what.
I would rather sign:
Mark Buehrle
. He's more consistent and he'll probably only need a two- or three-year deal for much cheaper. Sure, he doesn't have the upside, but you won't have to commit $75 million to him, either. And he's a workhorse, averaging 220 innings per season in the past 11 years.
More Free Agency
Position rankings
Jimmy Rollins, SS
The soon-to-be 33 year old hasn't been more than a major-league average offensive player for the past
four
seasons. His defense is on the decline, too. Yet because of playing in every postseason and being a one-time MVP, Rollins' name carries a ton of weight. He earned it, that's for sure, but he shouldn't get a lifetime pass. Some team that loses out on
Jose Reyes
will probably throw a four-year contract at Rollins and that's a mistake.
I would rather sign:
I'd obviously rather have Jimmy Rollins than
Clint Barmes
if given the choice between the two for the 2012 season at the same price, but c'mon. Barmes could possibly be had for a one-year deal at a fraction of the cost of Rollins. I'd go Barmes and save the money to use elsewhere.
Jonathan Papelbon, Heath Bell, Ryan Madson, Francisco Cordero, Francisco Rodriguez, Joe Nathan, etc., closers
Paying big money for a closer to all of a sudden come in and solve late-inning problems rarely works. It does work at times, and someone will probably get lucky with one of the above names on the list, but the problem is that shelling out eight figures for one of these guys has a track record of crippling payroll, while new closers emerge every single year. I'm not just talking about young, elite arms like
Craig Kimbrel
and
Neftali Feliz
. I'm talking about
Joel Hanrahan
,
Brandon League
,
Sergio Santos
,
Kyle Farnsworth
,
Jason Motte
,
Javy Guerra
and more. This happens every single season. Knowing it's possible, there's no reason to try and solve the problem by throwing barrels of money at an aging veteran.
I would rather sign:
Starting pitchers or position players
Roy Oswalt, SP
Let's see ... a 34-year-old pitcher who battled back issues during 2011 while allowing the highest hit rate and accruing the lowest strikeout rate of his career? I'd pass anyway, but keep in mind Oswalt has talked about an early retirement before and the rumors keep popping up. His name certainly has cache, but I'd let someone else pay.
I would rather sign:
Edwin Jackson
is six years younger. Easy choice.
Derrek Lee, 1B
So who are you going to get, the guy who was lackluster for 85 games in Baltimore or the guy who tore it up in 28 games for Pittsburgh? The smart money is on the former, as Lee is 36 and well past his prime. Some non-contender will likely add him as a patchwork, temporary "solution" at first base, when he's going to be overpriced and pretty much just an adequate bat. This is where teams would be better served to just save the money and play a kid.
I would rather sign:
Casey Kotchman
is 28 and just hit .306 with a .378 on-base percentage for Tampa Bay. Because he plays first base and doesn't have much power, he'll be overlooked, but he's a nice cheap option -- especially for teams with power at second or short.
Honorable mention:
The "big three" of
Albert Pujols
,
Prince Fielder
and Jose Reyes all carry a certain amount of risk. Pujols likely lands at least a six-year deal, meaning he's going to be getting paid like the best player in baseball into his late-30s. Fielder's body type resembles Mo Vaughn, who was elite only until age 30, and then just good for three more seasons before being cooked. Fielder is 27, but he's also shorter and weighs more. Prince's father, Cecil Fielder, had his last big power year at age 32, also. And, of course, we know about Reyes' hamstring history.
Look, all three are going to get paid and they have earned it. And there's a good chance any of the three are still studs when their new contracts run out, just as there's a chance any of the above players pan out and prove to be good signings. But when you see contracts like
Barry Zito
,
Vernon Wells
and
Alfonso Soriano
, you have to keep in mind those guys were once elite players, too. There's risk everywhere.
For more baseball news, rumors and analysis, follow @EyeOnBaseball on Twitter or subscribe to the RSS feed.