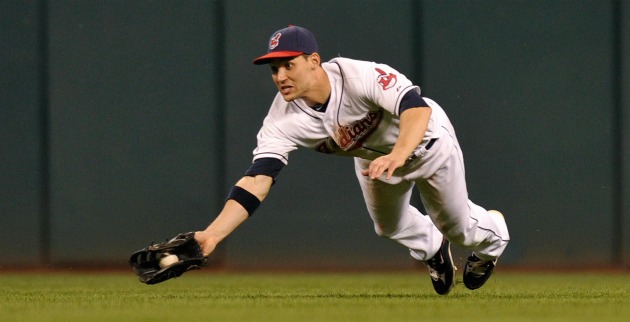 By C. Trent Rosecrans
One of the most interesting free agents out there is Grady Sizemore, the incredibly talented former center fielder for the Indians.
Despite his talent, the 28-year-old is a risky signing because of his injury issues, having played just 210 games over the past three seasons. But when healthy, there are few players in the game that can match his array of talents.
More Free Agency
Position rankings
Already, he's been mentioned as a target for the Red Sox and Adam Kilgore of the Washington Post writes Sizemore could be a fit with the Nationals. Sizemore's agent, Joe Urbon, told Kilgore that "a number of clubs" have contacted him about Sizemore, who is "open" to just about any opportunity that comes his way before making a decision.
"He wants to have an opportunity that will allow him to show he's still the elite player he's been," Urbon said. "In a perfect world, he'd love to play center field. You can't ignore the fact that's where he won two Gold Gloves, where he's been a three-time all-star. When healthy, he's one of the best players in the game. But if he feels the best opportunity is for him to play in a corner spot, then he has the ability to do that."
Sizemore had a relatively minor surgery on his right knee after the season and missed 44 games from July to September with a sports hernia. He was on the disabled list a total of three times in 2011 after missing all but 33 games in 2010 after microfracture surgery on his left knee. He had two DL stints in 2009 for a left elbow injury.
Someone's going to pull the trigger on Sizemore, but the real gamble will be with the number of years on his contract, or he could go for the one-year show-me contract to set up a bigger payday in 2013 if he's healthy in 2012.
For more baseball news, rumors and analysis, follow @eyeonbaseball on Twitter or subscribe to the RSS feed.