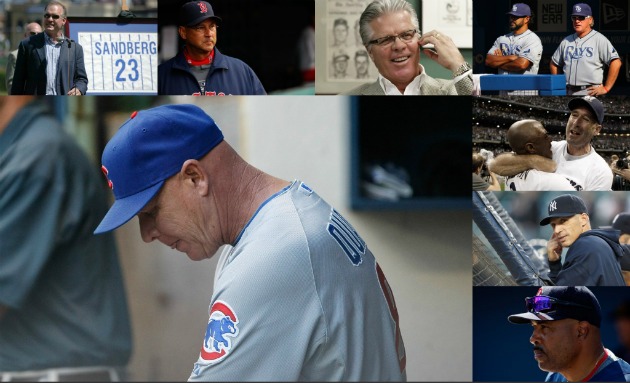 By C. Trent Rosecrans
Since the end of the season, there's been the assumption that Mike Quade would be out as the Cubs manager and he'd be replaced by Ryne Sandberg. Everything seemed to be playing out that way this offseason when Theo Epstein was hired by the Cubs and never really gave the impression that Quade would return.
The Cubs made the first part official on Wednesday, but made a question of the second part in a release the team sent out saying Quade would not return in 2012. While Sandberg would be a natural fit, Epstein's quote in the release gives some pause:
"The managerial search process begins immediately. We are looking for someone with whom and around whom we can build a foundation for sustained success. The next manager must have leadership and communication skills; he must place an emphasis on preparation and accountability; he must establish high standards and a winning culture; he must have integrity and an open mind; and he must have managerial or coaching experience at the major league level."
That means Sandberg -- who has spent the last five years as a minor league manager -- won't be considered. According to ESPN.com's Buster Olney, Epstein has alerady informed Sandberg that he wasn't in consideration.

If Sandberg isn't a candidate, who will manage the Cubs in 2012?
Here's a look at some of the possibilities:
Terry Francona: Francona will always be tied to Epstein. The two had success in Boston and there's definitely a mutual admiration. Epstein has gobbled up former Red Sox cronies since joining the Cubs, what's one more?
Dave Martinez: The Rays' bench coach is one of the hottest names when manager positions have opened up -- and he's got a Chicago connection. Martinez had two stints with the Cubs, breaking in with the organization in 1986 before being traded to Montreal. He also played there in 2000.
Pete Mackanin: A Chicago native, Mackanin has already interviewed for the Red Sox job and in addition to serving as the Phillies' bench coach in each of the last three seasons, Mackanin has twice been an interim manager -- and both of those stints came in the NL Central, with the Pirates and Reds.
Dale Sveum: Like Mackanin, Sveum is being interviewed in Boston. And it shouldn't be a surprise that there will be overlap in candidates between the two, since Epstein was involved in rounding up the candidates for the Red Sox manager position. The two organizations will have similar lists when looking for its next manager. Sveum spent two years as the Red Sox third base coach and impressed the Boston brass (including Epstein) before returning to Milwaukee where he has served as third base coach, bench coach and hitting coach under three different managers.
DeMarlo Hale: Hale's been on Boston's staff since 2006, including the last two as Francona's bench coach. Hale is a Chicago native.
Tim Bogar: Like Hale, Bogar's also been on Francona's staff in Boston, serving as the team's third base coach the last two seasons and the first base coach in 2009. He also worked for Joe Maddon in Tampa. He's also managed in the Cleveland and Houston minor league organizations.
Mike Maddux: Not only is Maddux a respected pitching coach, he also happens to be the brother of a Greg Maddux, who is beloved by the Ricketts and has served in the Cubs front office.
Joe Maddon: Maddon was a finalist for the Red Sox job when Epstein hired Francona. While Maddon has said he's not interested in going anywhere, there's always a chance.
John Farrell: Sure, the Blue Jays put on a full-court press to keep him away from the Red Sox, but maybe they'll be more open to let him talk to a team outside the American League East. Farrell's son is currently a pitcher at Northwestern.
Joe Girardi: Girardi's name is always going to be connected to the Cubs job when it's open, even if there's little-to-no chance he leaves the Yankees at this point.
Bobby Valentine: His name comes up with just about every opening nowadays, so why not one more?
For more baseball news, rumors and analysis, follow @eyeonbaseball on Twitter or subscribe to the RSS feed.