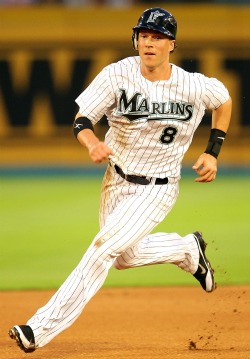 By Evan Brunell
Chris Coghlan won the Rookie of the Year award in 2009.
Three years later, he might be plying his trade for a minor league team.
"It's been disappointing, really, the last two years,"
Marlins
president Larry Beinfest told the
Palm Beach Post
about Coghlan's struggles the last two seasons which may leave the youngster on the outside looking in next season.
The left-handed hitter burst on the scene in 2009, playing in 128 games and hitting .321 as he romped to the Rookie of the Year award and even placed 28th on the MVP ballot for his season which also included 31 doubles and nine homers, fairly strong power numbers. The future looked bright for Coghlan, who came up through the minors as a second baseman, but played left in 2009.
The following season, Coghlan regressed to a .266/.335/.383 line in 400 plate appearances, as his season was cut short in late July by a torn meniscus. Outside of a scorching June, Coghlan was essentially a waste last season, but he still had a bright future. One problem: shoulder and knee problems plagued Coghlan in 2011, limiting him to just 65 games where he hit .230/.296/.368 in 298 PA as the club tried to masquerade him as a center fielder. It didn't work, and he finished the year out in the minors.
"He needs to re-establish himself healthy, which we anticipate he will be with the knee or knees and come in and compete," Beinfest said. "We already know he can be an offensive force, a great left-handed hitter."
Unfortunately for Coghlan, even if he heals up, he looks destined to open the season in the minors. The Marlins will be pursuing a center fielder which would presumably block Coghlan from a spot. It's possible that he could return to second or even slide over to third as has been previously debated, but Florida seems happy with
Omar Infante
at the keystone position, and there hasn't been any whispers about Coghlan heading to the hot corner. So center field it is, probably in Triple-A. But if he impresses in spring training, things could change.
"I think this is an important offseason and certainly spring training for Chris to get back to where he was when he won the rookie of the year," Beinfest added.
The Marlins are looking to compete this season and could even trade Coghlan to another team willing to take a chance on the youngster. Florida hasn't been all that eager to trade young players in the past as they are cost-controllable, but that could start changing now that the Marlins are moving into a new stadium and boosting payroll in anticipation of higher revenues.
"I think we need to become a little more open, just in general," Beinfest told MLB.com of changing ways it usually does busines. "I think we've been very protective of our zero to three [years of experience] players because we've had to be, given our payroll challenges. I think we can open up a little more now."
The Marlins, who will change from Florida to Miami on Nov. 11 when it unveils its new logo and uniforms, plan to be aggressive in free agency this season although it remains to be seen just who they can reel in. If they can't get a center fielder, that would give Coghlan a second chance at contributing.
For more baseball news, rumors and analysis, follow @EyeonBaseball on Twitter or subscribe to the RSS feed.