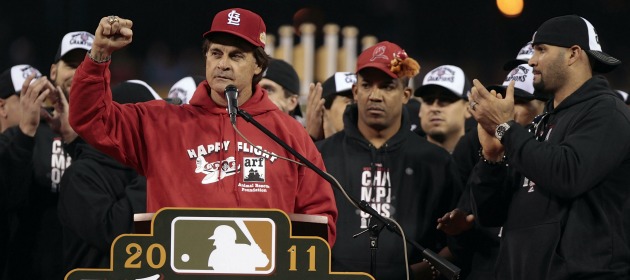 By Evan Brunell
"I need to get back in baseball somewhere," recently retired manager Tony La Russa said on ESPN Chicago, as transcribed by
SportsRadioInterviews.com
.
Despite retiring, La Russa isn't ready to completely hang up the cleats. Rather, he'd like to be involved somewhere.
"I think I don't really want to retire immediately and just make a ceremonial visit here and there," he said. "I don't want some kind of idle job that doesn't do anything. I like responsibility. I like to wake up in the morning with something to do, so if there's some fit there somewhere, hopefully you get an opportunity then you prove you are really willing to work and you have something to contribute and then maybe you get more responsibility. That's the way it is supposed to be, so I am not asking for any favors; just a chance."
It sounds as if while La Russa is done managing, he isn't necessarily done being involved in baseball operations. Retiring as manager allows La Russa to do something different, as well as travel less and not have to worry about the day-to-day demands of a manager, but it's clear that his fire has yet to wane, if it ever will. La Russa, who began his career as
White Sox
manager, has been linked to the White Sox in an advisory capacity given his strong relationship with Chicago owner Jerry Reinsdorf, but La Russa doesn't see a fit in Chicago given the talent in the front office.
"I think they are really set up. I think that's the problem," La Russa said. "You don't want to go into some place that already has it figured out. They got it figured out."
While La Russa waits for a job, he will be
dropping the ceremonial first puck
on Friday in an NHL game, when the St. Louis Blues host the Vancouver Canucks.
For more baseball news, rumors and analysis, follow @EyeonBaseball on Twitter or subscribe to the RSS feed.