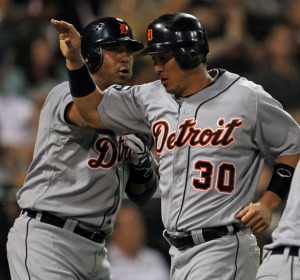 By Evan Brunell
Two
Tigers
who have made headlines the last two seasons for injury problems instead of production on the field are hoping to play again in 2012, MLB.com reports.
Carlos Guillen
, a two-time All Star, has played in just 177 of a possible 486 games over the last three years, including just 28 this year, where he contributed a meager .232/.265/.368 line and finished the season on the shelf yet again. It's no surprise the 36-year-old wants to continue a career that has been beset by left shoulder and knee issues, but no team will hand him significant dollars. Guillen (pictured, left, with Ordonez) will likely have to accept a make-good one year deal somewhere and hope to win a bench position.
His teammate in Detroit,
Magglio Ordonez
, also plans to return, Guillen says, despite Ordonez considering retirement. The two have been in touch since the season ended. Ordonez has his own injury problems as well, as he broke his right foot in mid-2010 that required surgery. Ordonez was slow to get going in 2011 but heated up in late August and reported that his ankle was finally starting to feel normal... then promptly broke it again in the ALCS.
Any Ordonez return would have to be on a similar deal to what Guillen will sign -- low base salary on a make-good deal and no guarantee of a starting job. Those deals will have to come elsewhere, as it doesn't appear as if GM Dave Dombrowski is interested in bringing either one back. That's not too surprising -- after all, Dombrowski has had to deal with two high-salaried players expected to be major assets to the team miss significant playing time in recent seasons -- and not produce too well even when on the field.
For more baseball news, rumors and analysis, follow @EyeonBaseball on Twitter or subscribe to the RSS feed.