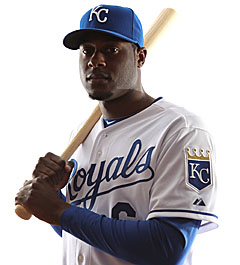 By Matt Snyder
Though there seems to be some amount of stigma attached to
Melky Cabrera
's name, it cannot be disputed the
Royals
traded away a player who was pretty good in 2011. Cabrera, 27, hit .305/.339/.470 with 18 homers, 87 RBI, 102 runs and 20 stolen bases for the Royals last season. That's a good year. His 2.9 bWAR and 4.2 fWAR say he was a very good regular player. So considering he's not old and the Royals feel like they're close to competing, they better have a regular ready to take over. And they do, in
Lorenzo Cain
, and he says he's ready.
"It was definitely good news when I heard we traded Melky," said Cain (
Kansas City Star
). "I'm glad I've got a chance now to go out and roam center field. Hopefully, I can go out there and get it done."
"This is what everyone wants — a chance to go out and play every day and prove what you have. I've got my chance now, and we'll just see what happens." (
Kansas City Star
)
He's right that he'll get his chance, too.
"I hated to give up Melky," general manager Dayton Moore said (
Kansas City Star
), "but this move, in our mind, balances out our team better. We've got to give Cain a chance to play. We've got to find out (about him)."
Cain's been in the minors for seven seasons, appearing in 712 minor-league games. Last season, his first for Triple-A Omaha, he hit .312/.380/.497 with 16 homers, 81 RBI, 84 runs and 16 steals in 128 games. He also had 13 outfield assists from center field. He'll turn 26 a week into the 2011 season, so now is certainly the time.
Cain has had a bit of time in the majors. In fact, he was pretty good for the 2010
Brewers
in limited action, hitting .306 with 11 doubles, seven stolen bases and a .763 OPS in 158 plate appearances (his 147 at-bats mean he's not a rookie in 2012, by the way).
Simply, if Cain plays the way it appears he can, he won't even be a step backward from Cabrera and the trade will virtually be like adding
Jonathan Sanchez
to the team. He's ready for the shot and the Royals are ready to give it to him, so now it's up to Cain to perform.
For more baseball news, rumors and analysis, follow @EyeOnBaseball on Twitter or subscribe to the RSS feed.