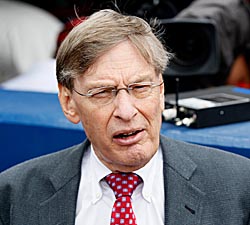 By Matt Snyder
First the NFL season was threatened, then the NBA actually went far enough to start cancelling games (and still hasn't come to an agreement) and now it's Major League Baseball's turn to come up with a new collective bargaining agreement between ownership and players. The good news is that these talks seem far less contentious than those of the NFL and NBA. In fact, it sounds like a deal is close to being hammered out, just weeks after the World Series ended.
Tuesday night,
Ken Rosenthal of Fox Sports
reported that there was "significant progress" made during the day. Wednesday early afternoon,
Maury Brown of The Business of Baseball
reported that a deal is "getting closer by the second."
Jayson Stark of ESPN.com reported
Wednesday that talks have taken "a step forward." Stark also has one source who believed an agreement would be reached by the end of the week but another told him it was only a "50-50" chance of talks being concluded by the end of the week.
Stark also notes the two sticking points in discussions. First of all, the owners prefer a hard slotting system when it comes to signing draft picks, which would hold down signing bonuses and ensure the highest picks are the highest paid. Secondly, the players oppose compensation for free agents leaving their incumbent teams -- or at least want less players to be considered "type-A" free agents.
The good news in all this is the stances by each side seem flexible and willing to compromise -- at least according to the reports we've seen thus far -- a problem in particular that has plagued the NBA. Nearing a deal this far away from the spring is a great sign.
For more baseball news, rumors and analysis, follow @EyeOnBaseball on Twitter or subscribe to the RSS feed.