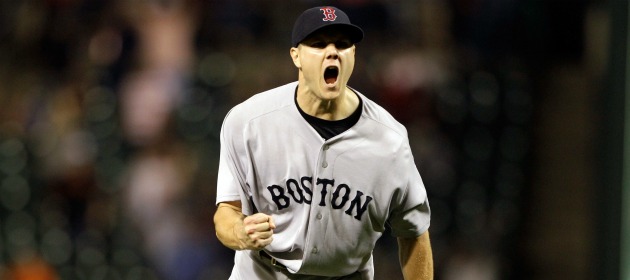 By Evan Brunell
Do the
Red Sox
even want
Jonathan Papelbon
back?
The Red Sox are on the hunt for a new closer, and despite Papelbon being the best name on the market, the Red Sox don't seem all that interested in hurrying a decision along.
Red Sox GM Ben Cherington said on Wednesday that while he has had dialogue with
David Ortiz
's agent and talks are progressing faster because the market is more easily determined, the same can't be said about Papelbon.
"With Pap, it's a little bit more difficult, because more options in terms of the National League, more unknown about what's out there," Cherington
told WEEI
. "So [there's been] less dialogue with him, but keep the door open certainly and we'll talk again I'm sure next week."
So far, so good, right? Nothing out of the norm that would make you raise your eyebrow. But Cherington wasn't finished talking about Papelbon, and what he said is worth some notice. Cherington said that the Red Sox aren't obligated a courtesy call or right of refusal on Papelbon.
"Those things can happen fast sometimes," said Cherington. "He doesn't owe us a call. I don't think we expect that. We expect we'll keep the door open and keep talking. But if he gets something that he really wants and there's a deadline on it he can take it."
Listen to the type of language being used. As far as bringing the righty back, Cherington said twice that Boston is keeping "the door open." And yet, if Papelbon gets an offer he likes from another team, "he can take it."
It doesn't sound like a ringing endorsement for bringing Papelbon back. The Red Sox might be more interested in promoting
Daniel Bard
to closer and bringing in some relievers, which would allocate more money to the team to address the starting rotation and right field. Still, it's a bit surprising the Red Sox don't seem all that hurried to strike a deal with Papelbon, which could cost them the closer. Papelbon's agents, Seth and Sam Levinson, are known for working quickly while Cherington is noted to be patient.
Nothing here precludes the franchise leader in saves from re-signing in Boston, and it's possible the Red Sox are intentionally downplaying their interest in Papelbon, but it's still notable how little interest Boston seems to have.
Hot stove report
:
Boston interested
in
Carlos Beltran
For more baseball news, rumors and analysis, follow @EyeonBaseball on Twitter or subscribe to the RSS feed.