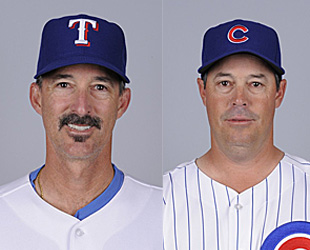 By Matt Snyder
Rangers
pitching coach Mike Maddux interviewed for the Chicago
Cubs
' managerial opening Wednesday, and by many accounts it went very well. In fact, "he hit it out of the park,"
according to Paul Hoynes of the Cleveland Plain-Dealer
. Sandy Alomar Jr. will interview with the new Cubs brain trust Friday while
Phillies
bench coach Pete Mackanin and
Brewers
hitting coach Dale Sveum are also said to be in the mix (and there could be more, of course). But let's focus on Maddux for a second. Namely because of his last name and the connection to the Cubs.
As pretty much any baseball fan with a brain knows, Greg Maddux is one of the greatest pitchers of all time. He spent parts of 10 seasons with the Cubs, twice making the All-Star team and winning one Cy Young. His number 31 is retired (jointly, with Hall of Famer Fergie Jenkins) by the Cubs. And many, including humble ol' me, believe Greg Maddux would make an
outstanding
pitching coach.
Mike Maddux was asked Wednesday by reporters about possibly bringing his little brother along (Mike is 50, Greg is 45) should he be hired as the Cubs next manager. Mike acknowledged the two did discuss such a scenario and wouldn't say Greg was not a possibility.
From the
Chicago Sun-Times
:
''We talked about it, yeah,'' Mike said. ''Sure did.''

Their conclusion?

''That's kind of a private family matter,'' he said.

Given multiple chances to rule out a Maddux family reunion should he get the job, Mike didn't.

''It's family stuff that we should probably keep to ourselves,'' said Mike, who also said Greg was one of the first calls he made after he was asked to interview.
Insert the famous line from Dumb and Dumber: "So you're telling me there's a chance ... "
Now, Mike hasn't even been offered the job and we aren't sure he would definitely take it if offered (though it seems likely, considering
he pulled out of a scheduled interview
with the
Red Sox
and still interviewed with the Cubs). But if he is named manager, it's worth discussing what kind of a job the Maddux brothers could do with the Cubs pitching staff in 2012 and beyond. They represent two of the best pitching minds this side of Dave Duncan and would surely prove a huge boost to the pitching staff assembled by Theo Epstein and company.
Jim Bowden of ESPN.com
-- who had stints as both the
Reds
and
Nationals
GM -- tweets that there is "strong sentiment" that Cubs' brass feels its best team in the dugout would be the Maddux brothers.
This is purely speculative on my part, but the biggest question with Greg might be whether or not he wants to have such a hands-on job. He's been a "special assistant" to Cubs general manager Jim Hendry the past two seasons, but being a pitching coach would require much more consistent hours. According to his
Baseball-Reference page
, Greg Maddux made more than $150 million in his playing career. So he doesn't need money. It seems like being in that situation, any job would be merely to escape boredom. Being pitching coach for the Cubs is a pressure-packed job for at least eight months of the year and requires work every single day throughout the entire summer. It's certainly no hobby. Would he really want such a strenuous job?
If anyone could convince him to do so, maybe it's his big brother -- if Mike even gets that chance. Stay tuned.
For more baseball news, rumors and analysis, follow @EyeOnBaseball on Twitter or subscribe to the RSS feed.