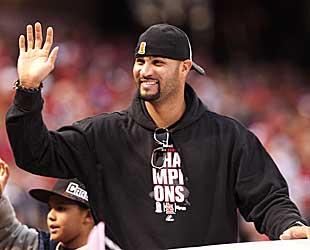 By Matt Snyder
Let's not go crazy about the headline before realizing it's still a longshot that
Cardinals
superstar
Albert Pujols
signs elsewhere. Personally, I'd be shocked if he signed with anyone else. Most of the major markets are unable to come through with a huge bid. The
Cubs
might
be able to, but we don't know if the new brain trust wants to take that path immediately (my guess is they don't). The
Marlins
are
meeting with Pujols Friday
, but could they afford him? It's doubtful they could come close to paying what St. Louis could. Can the allure of taking his talents to South Beach trump the loyalty, familiarity and dollars of St. Louis? Tough call, but only Pujols could answer that.
Still, let's just imagine a scenario where the Cardinals looked at the price tag internally and thought it best to outwardly appear as if they've done everything they could -- to appease the fans -- but still let Pujols walk via free agency. Obviously losing the best player in baseball would hurt the Cardinals, but I don't think it would be a death blow.
Let's check out what could be done with the money available, should Pujols sign elsewhere.
First of all,
Jose Reyes
could be signed to play shortstop. The leadoff spot was a bigger problem for the Cardinals than the middle of the order in 2011 (since-retired manager Tony La Russa had to use
Ryan Theriot
at leadoff in Game 7 of the World Series). Throw money at Reyes and the problem is solved. Plus, with Theriot,
Nick Punto
,
Skip Schumaker
and
Daniel Descalso
, there's plenty of infield depth to play with when Reyes serves a few stints on the DL.
Jimmy Rollins
could be a fall-back option. Next,
Mark Buehrle
could be signed. Remember, he grew up a Cardinals fan and has expressed interest in pitching for St. Louis in the past.
That means the Cardinals best lineup would be something like this:
1. Jose Reyes (or Rollins), SS
2.
Allen Craig
, RF
3.
Matt Holliday
, LF
4.
Lance Berkman
, 1B
5.
David Freese
, 3B
6.
Yadier Molina
, C
7.
Jon Jay
, CF
8. Punto/Theriot/Schumaker/Descalso, 2B
The starting rotation now includes a fully recovered
Adam Wainwright
, so it looks like this:
1. Adam Wainwright
2.
Chris Carpenter
3. Mark Buehrle
4.
Jaime Garcia
5.
Kyle Lohse
Jake Westbrook
,
Lance Lynn
and top prospect Shelby Miller are available in case of injury. And the bullpen is largely the same as it was toward the end of last season, with
Jason Motte
now getting a full season as closer.
I tell you what, that's a pretty damn good team. Sure, there are questions, like how are Freese and Craig going to hit over the course of a 162-game season as regulars? In moving Berkman to first and starting Craig, the bench loses a valuable bat, too. Age has to be a concern with Berkman and Carpenter. And of course, how does everyone respond without La Russa? Overall, though, there isn't much to dislike about that hypothetical team.
Considering what Pujols' salary might do to the ballclub if he's making $25 million or more eight years from now -- he'll turn 32 in January -- maybe it wouldn't be so bad for St. Louis if he did leave. It's certainly worth considering (again, internally, as to not alienate Pujols himself or any of the fans). I'd at least talk about it, and I'm guessing the front office has done so as well.
To reiterate, I don't think Pujols is going anywhere, but we're smack-dab in the time of the year that hypotheticals are the most fun.
For more baseball news, rumors and analysis, follow @EyeOnBaseball on Twitter or subscribe to the RSS feed.