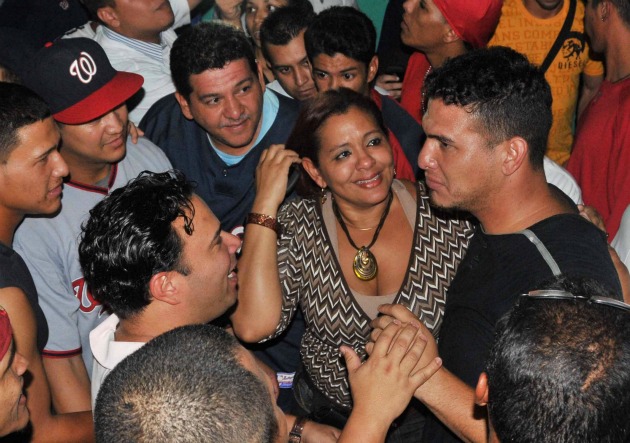 By C. Trent Rosecrans
Nationals catcher Wilson Ramos is "safe and sound" after being kidnapped on Wednesday, Venezuelan justice minister Tareck El Aissami said on state television Friday night.

Information director Andres Izarra said Wilson was found in the mountain region where he was the result of a "rescue operation by air." Five people were reportedly detained.

Ramos briefly talked with media, with hsi remarks broadcast on Venezuelan television, the Associated Press reports.

"They didn't physically harm me, but psychologically I underwent very great harm," Ramos said.

Wilson also described what happened in the kidnapping near his home.
"I don't know who those people were. I know they're Colombians by their accent," Ramos said. "Three guys grabbed me there in front of my house, they took me to another SUV and from there they took me into the mountains," in central Carabobo state.
Wilson said the kidnappers didn't say much to him -- "They simply told me to cooperate, that they were going to ask for a ton of cash for me."
"They put me in a room with a bed. I was lying there," he said. "It was hard for me to think about, if I was going to get out alive first of all ... about how my family, my mother were."
The Washington Post's Adam Kilgore tweets that Ramos spoke to his relatives on the phone and his mother, Maria Campos, said he told her, "Mama, I'm fine. Mama I'm, good. The freed me. They rescued me. ... I love you."

Ramos' friend and public relations agent Marfa Mata first tweeted Friday night that Ramos had "appeared." Mata told Venezuelan journalist Rafael Rojas that the Internal Affairs Minister called the Ramos family and told them that they'd gotten Ramos (via Twitter).
Wilson's teammate with Tigres de Aragua, Scot Drucker, tweeted that it was announced during Friday's game that Ramos had been found and was greeted by cheers. The news was announced at all of the games in Venezula on Friday.

Washington Nationals general manager Mike Rizzo said in a statement released Saturday mornign that he'd spoken with Ramos.

"I am happy to announce that I have spoken directly with Wilson and he assures me he is unharmed but eager to be reunited with his family," Rizzo said. "He asked me to thank all who played a role in his rescue, and all those who kept him and his family in their thoughts and prayers. I join Wilson in thanking the many law enforcement officials in Venezuela and investigators with Major League Baseball who worked tirelessly to ensure a positive ending to what has been a frightening ordeal. The only detail that concerns us tonight is that Wilson is safe. The entire Washington Nationals family is thankful that Wilson Ramos is coming home."
For more baseball news, rumors and analysis, follow @eyeonbaseball on Twitter or subscribe to the RSS feed.