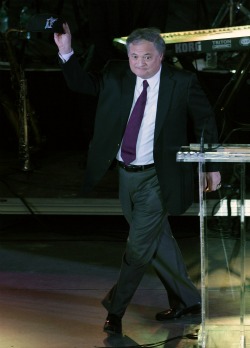 By C. Trent Rosecrans
If Marlins owner Jeffrey Loria has his way, he'll have some new names to put in the team's new uniforms.
After Friday's unveiling of their new uniforms, Loria confirmed that the Marlins have extended offers to free agents Albert Pujols, Jose Reyes and Mark Buehrle.
"We're looking at everyone," Loria told Joe Capozzi of the Palm Beach Post. "We want to make this team as special as we can and we would be foolish not to entertain the possibilities of some of these players. It's just one of those things that mean you're going forward. We've had our hands tied for a long time. With this new stadium we want to step into a new light."
Loria wouldn't give specifics, but said the Marlins are "being very aggressive."
Asked specifically about the meeting with Pujols on Friday, Loria said it went well.
"He's terrific. I can only tell you he loved the stadium," Loria said. "He liked being here. He loves the flavor of Miami as I do and everybody else here does. And we are hopeful that some of these deals will happen."
There have been reports that the Marlins could afford to sign all three free agents.
"There are absolutely no limits to try and see what can be done," Loria said.
For more baseball news, rumors and analysis, follow @eyeonbaseball on Twitter or subscribe to the RSS feed.