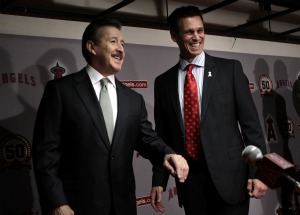 By C. Trent Rosecrans
While owner Arte Moreno's deep pockets and the rich California market make the Angels a perceived potential landing spot for any high-priced free agent, new Angels general manager Jerry Dipoto said Friday that he probably wouldn't pursue either of the two biggest names on the free agent market, Prince Fielder and Albert Pujols.
"You have to be open to the possibility, but it's not something we're going to aggressively pursue," Dipoto told reporters, including the Los Angeles Times. "I don't think you're going to get a financial bargain swimming in that pool."
That pool is already $120 million deep for 2012, including the sucking vortex that is $48 million for Vernon Wells, Torii Hunter and Bobby Abreu. Moreno has reportedly capped the team's spending for 2012 at $140 million.
"Right now, it creates confinement, but it doesn't necessarily have to say that way," Dipoto said. "That's where you can be creative in building a 25-man roster, by not including all 25 guys who are on it today."
Dipoto did acknowledge the team had contracted the agents for top free agent starter C.J. Wilson.
However, Dipoto said he'd prefer to explore the trade market than sign free agents.
"A complete overhaul isn't necessary," Dipoto said. "There are tweaks to make, holes to fill. We'll exhaust all possibilities."
For more baseball news, rumors and analysis, follow @eyeonbaseball on Twitter or subscribe to the RSS feed.