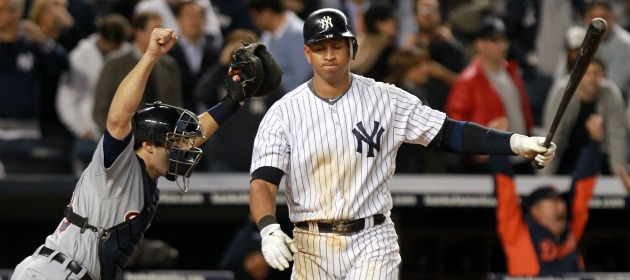 By Evan Brunell
It had to happen at some point, and it happened last season.
Alex Rodriguez
failed to hit 30 home runs and drive in 100 runs for just the second time in his entire career, the only other time coming in 1997 in his second full season in the majors.
It was "the worst year of my career," Rodriguez told the
New York Post
. "Close to embarrassing."
Rodriguez refused to make any excuses about his lack of production, even though he never seemed right all year, especially after undergoing surgery for a torn meniscus in his right knee in July. When Rodriguez returned, his power decided to stay at home. In the first half, A-Rod clubbed 13 homers, hitting .295/.366/.485 in 80 games. After the All-Star break, though, Rodriguez could only appear in 19 games and hit a paltry .191/.345/.353. That would seem to point toward his knee being a problem.
"There is no secret that I am getting older," Rodriguez said, batting the concerns aside. "But when I come in fit, ready and motivated, then age is just a number. … There is absolutely no doubt in my mind that I will be myself, like always."
Can Rodriguez really say anything else? Do you really expect Rodriguez to admit he's getting older and may not be the person he once was? No. Rodriguez has been one of the best players of this generation, and you don't get to that point without hard work and confidence enhancing your natural talent. Rodriguez isn't going to give up and assume his glory days are behind him, same as Jeter. Rodriguez is going to bust his tail to improve as much as he can. But what's interesting is that Rodriguez's season may have arguably outperformed his 2010 season, except without the identifying numbers of 30-100 to tout.
Baseball has seen a major shift toward dominant pitching over the last two seasons. While the year 2010 was popularized as the Year of the Pitcher due to the numerous no-hitters (and a
perfect game that needed 28 outs
), 2011 was just as favorable to pitchers. The advanced statistic titled
weighted Runs Created plus
, or wRC+, says Rodriguez actually had a better year in 2011 than 2010. The statistic essentially takes all of a player's offensive value -- hits, home runs, doubles, walks, and so forth -- and encapsulates it in one statistic that is also adjusted for parks and leagues, allowing for accurate comparison off of different seasons. For example, wRC+ would allow you to see just how good Ted Williams was as compared to Barry Bonds today, even though both players played in different eras.
Rodriguez's wRC+ for 2011 was 125, meaning he created 25 percent more runs than the league-average player. Last year, Rodriguez hit for a bit more power and played in 38 more games, so his counting statistics are obviously higher. However, A-Rod walked less in 2010 than he did in 2011, and that makes a difference, and that's why his wRC+ is two points lower. The aim of any player is to not make outs, and Rodriguez did that better in 2011 than in 2010, even if his overall power numbers dipped. And as we've seen, the knee may be the culprit of that power dip.
Of course, two points difference in wRC+ is not that much, so we can safely say that Rodriguez essentially repeated 2010 -- with a knee injury destroying the second half of his season. So Rodriguez may be right about the fact he'll be his old self in 2012 -- because his old self never really disappeared. But don't tell that to A-Rod, who said he expects himself to be one of the biggest acquisitions the 2012
Yankees
could make.
"The Yankees made two big moves this offseason," Rodriguez said. "Keeping CC, and I expect to be who I have been in the past."
Rodriguez is so determined to right the wrong of 2011 -- and admits he still has trouble sleeping because New York could have won the World Series -- that he's starting his workout program three weeks earlier, focusing his attention to start on his right knee, affected by the torn meniscus. His goal is to drop five pounds and improve "functional movement," in which he is lighter and more agile. This is a mantra he followed in previous seasons, citing his first two seasons in New York of 2007-08 as the "best years of my career" as proof that "functional movement" can work. (This time is before he admitted using steroids as a Ranger, but supposedly, he was not using during his time in New York.)
The Yankees really need Rodriguez to show he's his normal self next season, in no small part due to the massive dollars left on his deal. Rodriguez still has a whopping six years and $143 million on his pact, and this is a man who will enter the 2012 season as a 36-year-old. Even for the Yankees, that's a massive investment in an aging player who may not be long for third base. But Rodriguez is well aware of all this and intends to continue being an asset on defense at third base.
"The standard is always 30-100, and no question I can perform at a really high level," Rodriguez said. "I am clear of my role and importance to the team and what I need to do to help us win."
MORE: Rodriguez among baseball's 10 worst contracts
For more baseball news, rumors and analysis, follow @EyeonBaseball on Twitter or subscribe to the RSS feed.