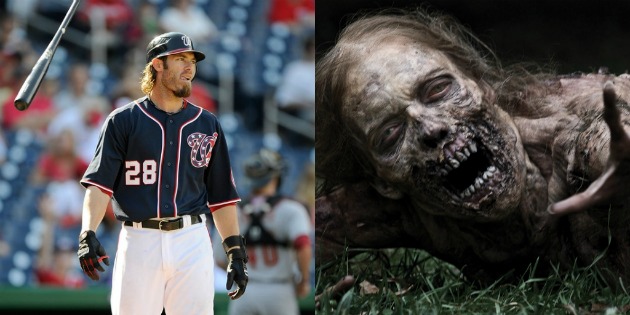 By Evan Brunell
What are the worst contracts in baseball?
Some of them are pretty easy. The names of
Vernon Wells
and
Barry Zito
, for example, have been synonymous with horrible contracts. Others aren't as easy to ferret out, but here's one man's look at the 10 worst contracts currently in baseball. To help us figure out which contracts are awful, I turned to a TV show that knows all about things awful:
The Walking Dead
. Because obviously, trying to survive in a post-apocalyptic, zombie-infested world is completely comparable to the onerous contracts some teams are saddled with.
There are three categories below, inspired by scenes from
The Walking Dead
that are linked for your viewing enjoyment and quotes, which aren't necessarily tied to the scene in the video. (Don't worry, no spoilers, but if you haven't seen the most recent episode, skip the scene in the last category anyways.) Be warned: If you are squeamish, it's best if you don't click through. Unless you're interested in giving your wastebasket the remnants of your most recent meal.
STILL KICKING
Walking Dead scene
"It's a waste of time, all this hoping and praying." -- Daryl (season 2, episode 2)
These players are nearing the end of their awful deals, like a zombie with no legs. Just like a zombie with no legs would keep crawling along trying to eat humans alive, so do these players keep on kicking. While their contracts don't look too bad given they're of the short-term variety at this point, there's no denying that these players are still of the undead. The years remaining on the contract to qualify for this list is two or less seasons. Also, this list does not include players who were released and are still owed money, such as Aaron Rowand, due $13.6 million by the
Giants
in 2012.

Jason Bay, Mets
Contract
: 4 years, $66 million, $16.5 million AAV.
Remaining
: 2 years, $39.25 million (includes 2014's $3 million buyout)
The
Red Sox
thought they had Bay locked up to a deal to stay in town, but Bay balked at medical contingencies in the contract, designed to protect Boston in case Bay's knees went. That allowed the Mets to swoop in on a deal they quickly regretted, as Bay's bat vanished in Citi Field, then struggled with concussions as his batting line in 2011 sank all the way to .245/.329/.374 with 12 homers in 509 plate appearances. Even though the club is set to move in its fences, it's tough to see Bay bouncing back and earning the rest of his deal which could potentially stretch through 2014. If Bay can reach 500 PA in 2012 and '13 -- a cinch as long as he stays relatively healthy, or 600 PAs in 2013, a $17 million club option vests. That would make this deal look even worse.

Carlos Lee, Astros
Contract
: 6 years, $100 million, $16.67 million AAV.
Remaining
: 1 year, $19 million
The Astros' impending move to the AL East for the 2013 season is coming one year too late. Lee's contract is finally due to expire next season, and one has to imagine that Lee will be the last man in a long time to receive $100-plus million for being such a one-dimensional slugger that can't even hit bombs anymore unless the Crawford boxes in left help him out. At this point, Lee is taking up space that could be better allocated to young players on a rebuilding club. Lee should have been dumped in a deal by now, but he has no interest in leaving Houston and has no-trade rights.

Johan Santana, Mets
Contract
: 6 years, $137.5 million, $22.9 million AAV.
Remaining
: 2 years, $55 million (includes 2014's $5.5 million buyout)
Santana's never really bandied about as a person with a lousy contract, but the numbers are simply stunning. After the Mets gave up a bounty (of nothingness, as it turned out) to acquire the best starter in the game from the
Twins
way back in 2008, Santana has given the Mets one season of transcendence. Since then, it's been a whole bunch of injuries, causing the lefty to sit out all of 2011. That means over the last three seasons, Santana's contributed just 54 starts. And it gets worse, as his deal is backloaded for an incredible $55 million coming the next two years, and no guarantee Santana can even approximate the pitcher he once was after undergoing surgery to repair an anterior capsule tear in his left shoulder. New York holds a $25 million option for 2014 that can become guaranteed based on innings pitched and finish in award voting.

Barry Zito, Giants
Contract
: 7 years, $126 million, $18 million AAV.
Remaining
: 2 years, $46 million (includes 2014's $7 million buyout)
This contract is so bad, even the buyout of Zito's team option in 2014 is horrible. The Giants might be paying Zito $7 million simply to go away. Being paid like an ace, he's been the team's No. 5 starter the last two season and will hold that role again in 2012. The selling point to Zito, despite the regression back to being a league-average player, is the fact he can chew up innings. One problem: the 2014 option vests automatically if Zito pitches at least 200 innings in 2013 or 400 between 2012-13. That's very feasible if the Giants keep him on his regular turn through the rotation, so he might have $18 million in 2014 headed his way.
NOT SO PRETTY
Walking Dead scene
"You don't know what it's like out there. You may think you do but you don't. It's only a matter of time. There's too many of those things. My boy, my wife, I never told them what I really thought. I never even hinted, just, just kept it in, kept us moving, kept it in, kept us moving." -- Rick (season 1, episode 6)
Little girls are cute... except when they're trying to tear your flesh off. Just as in the
Walking Dead
, baseball has its share of onerous, undead contracts that once looked pretty but now eat up as much payroll space as they can. Here are the worst deals left with less than five years remaining.

John Lackey, Red Sox
Contract
: 5 years, $82.5 million, $16.5 million average annual value (AAV).
Remaining
: 3 years, $47.85 million
Even though he has yet to reach the halfway mark of his deal, this contract already ranks as one of the worst in baseball history. The Red Sox thought they were getting a fiery, innings-eating No. 2 starter. Instead, what they've received is one of the worst pitchers in the game who shows up his teammates on the field. And now he'll be missing all of 2012 due to Tommy John surgery. That means, through three years of the deal, Lackey will have given Boston a 5.26 ERA in 61 starts. The only saving value to this deal is the surgery will kick in an additional year at the league minimum Lackey must play at, which will drag down his AAV and give Boston a couple extra million below the luxury tax to play with.

Alfonso Soriano, CubsContract
: 8 years, $136 million, $17 million AAV.
Remaining
: 3 years, $57 million
Soriano has kept up his home-run production since moving to Chicago, but his bat has slowed to the point where he's lucky if he cracks the .250 barrier in batting average. That wouldn't be such a big deal if the man knew how to take a walk once in a while, but he doesn't, as evidenced by his .289 OBP. New Cubs president Theo Epstein is going to be taking a lot of heart medicine these next three seasons as he watches Soriano clank balls in left field and stifle rallies with his inability to draw a walk. The Cubs appear as if they're going to enter a retooling period, so at least Soriano isn't holding them back from contending. But then again, that's exactly what he's done to Chicago the last couple years.

Vernon Wells, AngelsContract
: 7 years, $126 million, $18 million AAV.
Remaining
: 3 years, $72.96 million
Patience, Jerry Dipoto. Just keep telling yourself it's just three years. Dipoto, the new Angels GM, will have a challenge to build a winning club that includes Wells and his yoke of a contract that doesn't even tell the full story. For crying out loud, Wells is slated to receive $24.6 million each of the next three seasons. For comparison, only
Alex Rodriguez
and
Ryan Howard
will earn more on a AAV basis than Wells will receive through the end of his contract. Back when the deal was signed, Wells was poised to be one of the best players in the game moving forward. Now? He's essentially Alfonso Soriano, but with a much worse deal. How someone can have an OBP under .250 and still collect over 500 plate appearances is baffling. It will be a shock if Wells can finish out the deal without being released.
GUTS EVERYWHERE

Walking Dead scene

"Good thing we didn't do anything stupid like shoot it." -- T-Dog being sarcastic (season 2, episode 4)
These contracts are the worst of the worst. It's almost like being a zombie stuck in a water well for weeks, then finally getting dragged out of the well only to split in half and spew its guts everywhere. In other words, fans of these teams have nothing but good things to look forward to.

Ryan Howard, PhilliesContract
: 5 years, $125 million, $25 million AAV.
Remaining
: This deal kicks in for 2012.
Howard was once a very, very good player that had his career held back due to the presence of
Jim Thome
in town. When he finally earned the right to play every day, he started mashing and just wouldn't stop. So what did GM Ruben Amaro do? Simple. He gave Ryan Howard one of the richest deals in baseball history... two full seasons before it was set to kick in. And what's happened in those two full years? Well, Howard's essentially become a platoon player who can't field and whose bat has slowed to the point where he can't be considered an elite first baseman anymore. And this is someone who will miss the beginning of 2012 thanks to an Achilles tear that could torpedo his career. His lucrative contract, which will leave him behind just Roger Clemens and Alex Rodriguez for the highest AAV in baseball history, is just beginning. By the way, he has a 2017 team option for $23 million that will hand him a whopping $10 million in a buyout.

Alex Rodriguez, YankeesContract
: 10 years, $275 million $27.5 million AAV. $30 million due if he hits home-run milestones.
Remaining
: 6 years, $143 million (plus milestones)
There's no question Rodriguez has been a fantastic player, steroids or not, and he'll retire as one of the best players in the game of baseball. But his 10-year deal with the Yankees was silly when it was signed and it's even sillier now. Coming off what A-Rod
called the worst season of his career
, the Yankees are suddenly staring at $143 million over the next six years being given to a DH who is lucky if he can reach 30 home runs and 100 RBI. Rodriguez is simply not the same player he once was, and instead of being in his own class these days, he's now merely "very good." And you don't want "very good" from a player earning millions through age 42.

Jayson Werth, NationalsContract
: 7 years, $126 million, $18 million AAV.
Remaining
: 6 years, $115.4 million
Here's one number to avoid in baseball: 126. That's exactly how much money (in millions, of course) Zito and Wells are receiving to be money drains for the club. And now Werth gets to be a money drain, and he still has so much more due to him after playing 2011 at $10.6 million. You can't blame Werth, who also (of course) has a no-trade clause, for accepting such a deal. It was obviously a gross overpayment that no one was going to match, but it's hard to envision what the Nats were thinking. Yes, they wanted to make a statement. But was someone set to play 2011 at age 32 with notable platoon splits really the man to make a splash with? The right fielder will likely bounce back from his .232/.330/.389 line set in his first year with Washington, but he will never justify this contract.
For more baseball news, rumors and analysis, follow @EyeonBaseball on Twitter or subscribe to the RSS feed.
The Walking Dead
photo courtesy the show's download page available to public.