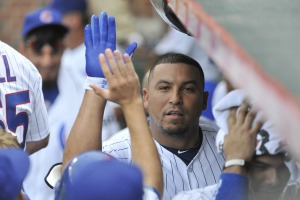 By C. Trent Rosecrans
Carlos Zambrano's Cubs career may not be over quite yet -- new president Theo Epstein told reporters he met with Zambrano and didn't close the door on a return to Wrigley Field for the volatile right-hander.
"We told him we would give him the right to earn his way back to being a Cub, that nothing would be given to him," Epstein told reporters (via the Chicago Tribune) on Monday after meeting with Zambrano, agent Barry Praver and Cubs farm director Oneri Fleita.
"He could earn his way back through very hard work this winter, through rebuilding relationship man-to-man with all his teammates and through other steps we discussed," Epstein said.
Zambrano was suspended by the team after he left during a game in Atlanta on Aug. 12 following an ejection for throwing at Chipper Jones. Epstein described Zambrano as "contrite" in their meeting.
"He expressed a strong desire to be a Cub and an even stronger desire to have a real good 2012 season," Epstein said (via the Chicago Sun-Times). "He's in great shape, working real hard."
Zambrano also encountered controversy in 2010 when he started a fight in the dugout during a game. The 30-year-old is in the final year of a five-year, $91.5 million contract. He went 9-7 with a 4.82 ERA last season and is 125-81 with a 3.60 ERA in his 11 seasons with the Cubs. He is currently playing winter ball in his native Venezuela.
For more baseball news, rumors and analysis, follow @eyeonbaseball on Twitter or subscribe to the RSS feed.