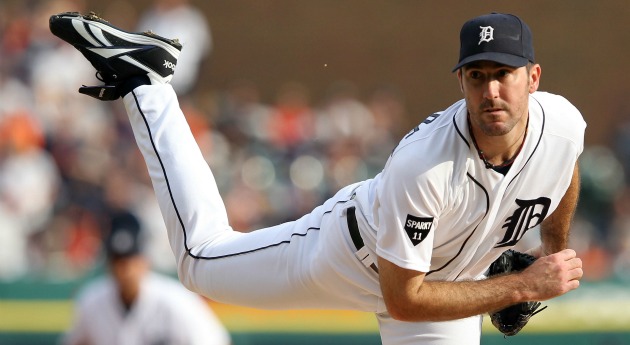 By Evan Brunell
In a season for the ages,
Justin Verlander
took home the AL Cy Young Award on Tuesday, winning the award unanimously, just the fourth pitcher in the AL to do so.
It was a no-brainer decision for voters after Verlander racked up a 2.40 ERA, good enough to lead the American League. He did so in 251 innings, which led all of baseball. Verlander's accomplishments don't stop there -- he also led baseball in wins, racking up 24 against five losses, and also was tops in the game in strikeouts (250) and WHIP, sinking under 1.00 and finishing at .920.
The last pitcher to have a WHIP under 1.00 and strike out at least 250 batters was in 2004, when three pitchers accomplished the feat in
Ben Sheets
,
Johan Santana
and Randy Johnson. But if you add in at least 250 innings pitched, there have only been two pitchers since 1986 to accomplish that feat. Curt Schilling with the
Diamondbacks
in 2002 is the only other man left standing with Verlander.
Award Season


Can Justin Verlander reach 300 wins in his career? Evan Brunell examines his case. Read>>
Related links
Once you factor in ERA, Verlander stands alone in how dominant he was. Schilling's 3.23 ERA was very good for the offensive climate of 2002, but even Schilling doesn't compare with Verlander in how dominant over and above the average pitcher Verlander was. Mike Scott in 1986 and Dwight Gooden in 1985 are the only pitchers since the 1970s to put together a total package of accomplishments like Verlander did. In fact, Verlander is now the first AL pitcher to win both Rookie of the Year and Cy Young in a career. The feat has been accomplished five times in the NL, but it is an AL first.
While Gooden didn't toss any no-hitters during his transcendent season, Scott did, blanking the
Giants
on Sept. 25. Verlander can match that feat, as he tossed his second career no-hitter on May 7, taking out the
Blue Jays
. Verlander walked just one and faced the minimum 27 batters. In his next start, he had a no-hitter until the sixth inning. In total, Verlander had 15 2/3 innings of consecutive no-hit ball. It wasn't the last time he would flirt with a no-hitter, taking one into the eighth inning on June 14 and July 31.
Verlander's victory gives the
Tigers
their first Cy Young since 1984, when closer Willie Hernandez took home the honor. Verlander's unanimous selection marks the 18th such time in baseball it has occurred. The first time it happened was with a fellow Tiger, with Denny McLain the obvious victor in 1968, two years after baseball decided to give the award to one pitcher in each league. The Cy Young had previously been awarded to one pitcher upon inception in 1956. The NL also made its first unanimous selection in 1968, handing the distinction to Bob Gibson.
With Verlander, there are six pitchers who can boast unanimous victories in the AL, with Roger Clemens, Pedro Martinez and Johan Santana all winning the award unanimously twice. McLain and Ron Guidry are the other AL hurlers with unanimous selections. Verlander will earn an additional $500,000 on top of his $12.75 million salary as a result of the victory.
The
Angels
'
Jered Weaver
(18-8, 2.41) finished second with 97 points, the only other pitcher to be named on each ballot.
James Shields
of the
Rays
had 66 points, finishing third. He is followed by
CC Sabathia
of the
Yankees
with 63 points, and Tigers closer
Jose Valverde
rounded out the top five with 28 points.
For more baseball news, rumors and analysis, follow @EyeonBaseball on Twitter or subscribe to the RSS feed.