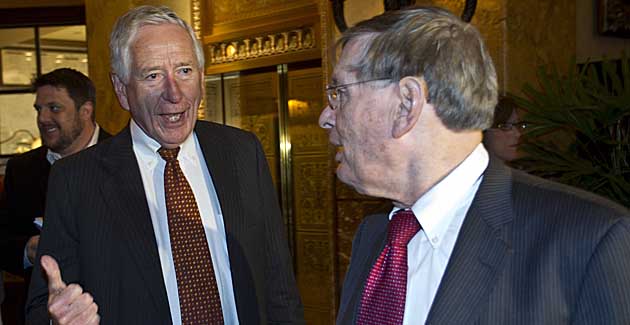 By Matt Snyder
The
Astros
are going to move to the American League West, likely in time for the 2013 season. And judging from the reactions on Twitter, message boards and comments sections, the entire sport of baseball has apparently been ruined. We might as well just give up, right?
Dear Lord, people, dial it down. This is sports. They are supposed to be fun.
It never ceases to amaze me how utterly
furious
the masses get whenever baseball dares to makes a change. Is it the nation-wide, fan stigma attached to commissioner Bud Selig? That's possible. It's also possible it's the romantic infatuation die-hard baseball fans have with tradition. Whatever the reason, it's astounding. The NFL could radically realign and it would be universally accepted (oh wait, that already happened).
What if we treated our everyday life the way we treat baseball -- in that we aren't allowed to change anything, lest you upset the so-called tradition.
Go ahead and use your rotary phone, refuse to upgrade to high-definition TV, make sure your Internet connection is still a dial-up and definitely don't use the microwave for anything. If you like video games, you're only allowed to play Frogger or Donkey Kong on that old-school Atari. I mean, it's just madness all these changes people are making with technology, right? And that's just with technology. We could do this little exercise with any aspect of life. But in baseball, any change is tantamount to sacrilege, cry the masses.
The Astros move to the American League at at time when the franchise is facing a massive rebuilding project. They'll now be able to do so as an American League team. The
Brewers
, meanwhile, are firmly entrenched as an important National League team, having also developed good rivalries with the
Cubs
and
Cardinals
. It doesn't matter if the Brewers were in the American League a few decades ago, no matter how much people want to cry about Bud Selig's move of the Brewers to the NL. The past is the past. Leave it there. Look to the future. This move makes sense right now.
If you do insist on looking at the past, let's realize that the World Series used to pit the teams with the best record in each league against each other. There wasn't even an LCS. Remember how great that was, old people? Under that format, this year the World Series would have pitted the
Yankees
against the
Phillies
. Man, I can't imagine how much whining there would have been from everyone outside the northeast. For a few decades, there was only an LCS, no LDS. Then the wild card was added. All the changes have done is make postseason baseball more exciting than ever. The last month of this past season was one of the best of all-time.
I've seen people complaining about year-long interleague play with the rhetorical question, "why even have two leagues?" What an absurd complaint. You have the two leagues so you have a proper route to the World Series, just like the NFL has the AFC and NFC while the NHL and NBA have the East and West.
I've seen the lament that interleague play won't be "special" anymore. Special? Would the
Marlins
vs.
Pirates
be any less "special" than the
Padres
vs. A's right now? Please.
I've heard people whine about how the World Series teams will be too familiar with each other now. With trades and free agency, lots of players are familiar with each other anyway. And I don't understand how there's so much extra allure if the teams aren't familiar. It's the World freaking Series. You don't need to have an additional selling point.
Face it, having 16 teams in one league while 14 in the other was pretty ludicrous. Just as it's ludicrous to have different rules in each league (DH in AL, no DH in NL). It's one sport. Things should be uniform. Again, what is it about baseball that makes us lose all sense of perspective? I can't help but think 25 years from now we'll look back and scratch our heads at why the consensus was that it was OK to have 16 teams in the NL, 14 in the AL, but four playoff teams from each league. So, statistically, it was easier to make the playoffs from the AL West than NL Central. And
that's
fair, Houston fans?
It couldn't possibly be more obvious that the underlying hatred is simply change itself. As Garth Algar once said, "we fear change." All the rationale from those opposing the change is just a convenient justification because your gut is just telling you that you don't want anything to change. That's it.
But let's look at the excitement and intrigue the wild card has brought baseball. That was a big change that was met with venomous opposition at the time. Not all change is bad. Let's accept the fact that the Astros are moving and start looking to the future of baseball. Yeah, yeah, here come the mudslingers to accuse me of not being a true fan. That's fine. Forgive me for actually enjoying the sport instead of being a change-resistent dinosaur.
The whiners can feel free to watch a low-def tube TV. I'll just sit here and enjoy the sport I love on a high-def flatscreen.
So which one of us is being unreasonable?
For more baseball news, rumors and analysis, follow @EyeOnBaseball on Twitter or subscribe to the RSS feed.