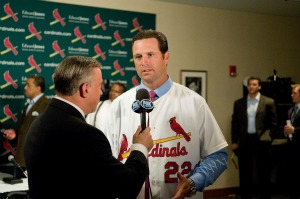 By C. Trent Rosecrans
How bad is the economy these days? The manager of the defending World Series champions is living with his in-laws.
Or at least that's his legal address, as new Cardinals manager Mike Matheny lost his home and owes more than $4 million after a business deal went bad, according to the St. Louis Post-Dispatch.
Matheny, who is married with five children, stopped making payments on his 17-room home in Wildwood, Mo., in May 2010. The Cardinals told the newspaper they were aware of the situation when they hired Matheny.
"He was very upfront and candid about it from the start of our process," Cardinals spokesman Ron Watermon told the newspaper. "We view this as a personal issue that has absolutely no bearing on his ability to serve as our manager."
Matheny declined comment when asked about the current lawsuit over his failed business venture.

Matheny played in the majors for 13 seasons and earned nearly $19 million during his playing career. He was named the successor to Cardinals manager Tony La Russa last week.
For more baseball news, rumors and analysis, follow @eyeonbaseball on Twitter or subscribe to the RSS feed.