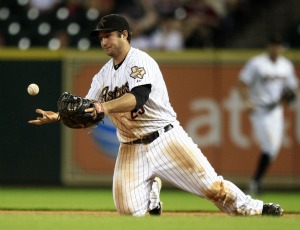 By C. Trent Rosecrans
The Astros' struggles on the field didn't end when the 2011 season was over, as first baseman Brett Wallace was released by Dominican Winer League team Leones del Escogido this week, the Houston Chronicle reports.
Wallace played in 20 games for Escogido, hitting just .173/.366/.327 with two home runs, going 9 for 52 overall with 16 walks and 16 strikeouts. He hasn't played since recording a sacrifice fly for Leones on Nov. 13. The team also has the Giants' Brandon Belt as a first baseman. Belt is hitting .312/.405/.495 with three home runs in 26 games.
Former big-leaguer Moises Alou is Escogido's general manager.
Wallace hit .259/.334/.369 with five home runs in 115 games for the Astros in 2011. The former first-round pick of the Cardinals was sent to A's in 2009 as part of the trade that brought St. Louis Matt Holliday. He was later sent to Toronto and finally to Houston in return for another prospect, Anthony Gose, in 2010.
The Astros sent Wallace to the minor leagues in August, where he hit well at Triple-A Oklahoma City, after losing the first base job to Carlos Lee.
His winter league performance won't hurt his standing with the team, general manager Ed Wade told the Chronicle, but it can't help his confidence going into 2012.
"He has to come in and win a job," Wade told the newspaper. "Same as if he had hit .400."
For more baseball news, rumors and analysis, follow @eyeonbaseball on Twitter or subscribe to the RSS feed.