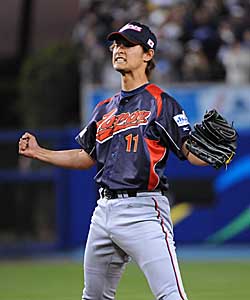 By Matt Snyder
Japanese phenom Yu Darvish will be one of the hottest free agent starting pitchers on a pretty lackluster market, if he decides that he wants to post. And according to his father, it's not a done deal he'll do so.
"Yu and I are talking about having a family meeting once the Nippon Series is over," Farsa Darvish said (
NPBTracker.com
). "At this point it's about 50-50."
Darvish, a 25-year-old right-hander, has been the ace of the Nippon Ham for several years. In 164 career starts, Darvish is 93-38 with a 1.99 ERA and 0.98 WHIP with just about one strikeout per inning pitched. He's also thrown 55 complete games and 18 shutouts. In 2011, Darvish went 18-6 with a 1.44 ERA, 0.83 WHIP and 276 strikeouts in 232 innings with 10 complete games and six shutouts. Given those numbers, it's pretty obvious he's good enough to get a shot in Major League Baseball, so it's up to Darvish whether or not he takes that shot at this point in time.
Since Darvish is not yet an international free agent, he'd enter MLB via the posting system. That means interested teams submit an undisclosed dollar figure in an attempt to "win" the chance to negotiate with Darvish. Whichever team submits the highest figure pays that to Nippon and then has to agree to a contract with Darvish. In a way, it's like paying twice; once to the team and once to the player. You might remember this process from when the
Red Sox
paid a tick over $51 million to the Seibu Lions just for the rights to negotiate with
Daisuke Matsuzaka
-- who eventually signed a six-year, $52 million contract.
Several marquee teams, like the
Yankees
and
Rangers
, are said to be interested in Darvish, should he post.
FREE AGENT TRACKER
(Stats via Japanesebaseball.com)
For more baseball news, rumors and analysis, follow @EyeOnBaseball on Twitter or subscribe to the RSS feed.