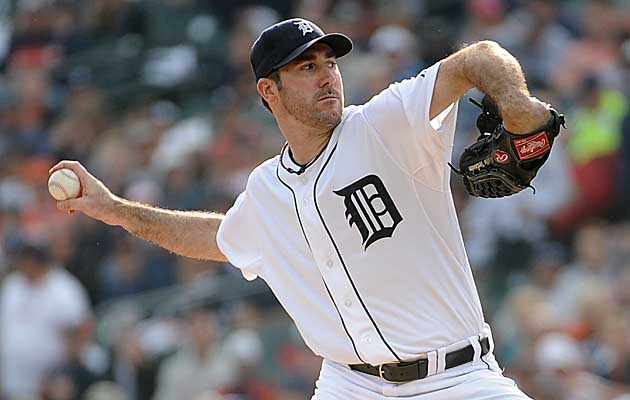 By Matt Snyder
Tigers
ace pitcher
Justin Verlander
had a historic season for several reasons, and you can now add MVP and Cy Young in the same season to the list. He won the American League MVP, the Baseball Writers Association of America announced Monday afternoon. Verlander becomes the first starting pitcher to win MVP since Roger Clemens took home the honors all the way back in 1986. This also marks the first time any pitcher has won since 1992, when A's closer Dennis Eckersley won. This marks the 10th time a pitcher has won both the MVP and Cy Young in the same season.
"Not even in my wildest dreams had I thought of this," Verlander said. "I want to say this is a dream come true. I can't say that because my dream had already had come true ... to win a Cy Young. And the next dream is to win a World Series. This wasn't even on my radar until the talk started. And then all of a sudden it was a this-could-actually-happen type of thing."
Verlander, 28, was clearly the best pitcher in baseball in 2011. He went 24-5 with a 2.40 ERA, 0.92 WHIP and 250 strikeouts in 251 innings. He had four complete games, two shutouts and one no-hitter. He led the American League in wins, winning percentage, starts, innings pitched, strikeouts, WHIP, ERA-plus and hits per nine innings.
Verlander racking up awards
The only real question as to whether or not Verlander would win the award was based upon his position. Pitchers only work once every fifth day, so many argued that they shouldn't be allowed to win an award that is traditionally given to players who are seen in the lineup every single game. But Verlander was so good it was tough to ignore. And he tied
Jose Bautista
with 8.5 wins above replacement, according to
Baseball-Reference.com
.
"I think that a starting pitcher has to do something special to be as valuable or more so than a position player," Verlander said. "Obviously, having the chance to play in 160-some games in the case of Miguel, they can obviously have a huge impact every day. That's why, I've talked about on my day, on a pitcher's day, the impact we have is tremendous on that game. So you have to have a great impact almost every time out to supersede (position players) and it happens on rare occasions, and I guess this year was one of those years."
This vote was probably the most intriguing of all the BBWAA votes this season because it felt wide open. Should pitchers be allowed to win? Can a player on a fourth-place team be considered valuable? Can a player on a team who had a historic collapse down the stretch win? There were arguments all over the place for the last six weeks of the season. Here's how the final vote stacked up, with the final points in parentheses:
1. Verlander (280)
2.
Jacoby Ellsbury
(242)
3. Bautista (231)
4.
Curtis Granderson
(215)
5.
Miguel Cabrera
(193)
6.
Robinson Cano
(112)
7.
Adrian Gonzalez
(105)
8.
Michael Young
(96)
9.
Dustin Pedroia
(48)
10.
Evan Longoria
(27)
In order:
Ian Kinsler
,
Alex Avila
,
Paul Konerko
,
CC Sabathia
,
Adrian Beltre
,
Ben Zobrist
,
Victor Martinez
,
James Shields
,
Mark Teixeira
,
Asdrubal Cabrera
,
Alex Gordon
,
Josh Hamilton
and
David Robertson
also received votes.
Verlander received 13 of the 28 first-place votes. Bautista got five, Ellsbury, four; Granderson, three; Miguel Cabrera, two and Young got one first-place vote. Evan Grant of the
Dallas Morning News
gave Young his lone MVP vote.
One voter, Jim Ingraham of the
Lake Herald News
(Cleveland) completely left Verlander off the ballot. Via the Associated Press, here was Ingraham's rationale:
"I'd wrestled with this for a long time. If I was ever going to vote for pitcher for MVP, it would be him this year," Ingraham said. "He hasn't appeared in 79 percent of their games, any starting pitcher really doesn't appear in 79 percent of his team's games in a year.
"Would you vote for an NFL quarterback for MVP if he only appeared in three of his team's 16 games, which would 21 percent? So that's part of it. Another part of it is I think they're apples and oranges. The guys that are in there every day, there's a grind to a season that a starting pitcher doesn't, I don't think, experience the way the everyday position players do playing 150, 160 games."
Sheldon Ocker of the
Akron Beacon Journal
gave Verlander an eighth-place vote while both Chad Jennings of the
Journal News
(New York) and Susan Slusser of the
San Francisco Chronicle
voted him sixth.
Jacoby Ellsbury was hurt by a 10th place vote from Scot Gregor of the
Arlington Heights Daily Herald
(Chicago).
Other pitchers to win MVP and Cy Young in the same year were Don Newcombe (1956), Sandy Koufax (1963), Bob Gibson, Denny McLain (1968), Vida Blue (1971), Rollie Fingers (1981) and Willie Hernandez (1984).
This is the ninth time a Tigers player has won the MVP. The others: Mickey Cochrane (1934), Hank Greenberg (1935), Charlie Gehringer (1937), Greenberg (1940), Hal Newhouser (1944), Newhouser (1945), McLain (1968) and Hernandez (1984).
The National League MVP will be revealed Tuesday. It's likely to be either
Ryan Braun
or
Matt Kemp
, but a few others will factor heavily in the voting.
For more baseball news, rumors and analysis, follow @EyeOnBaseball on Twitter or subscribe to the RSS feed.