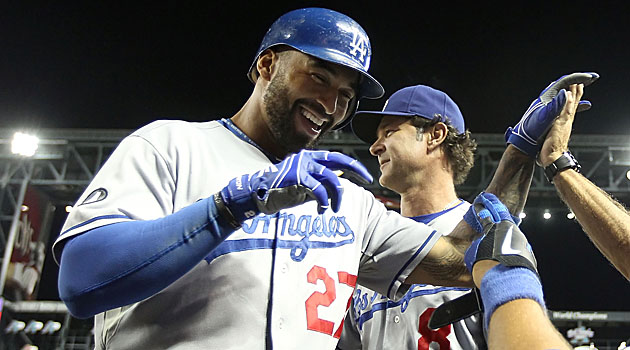 By Matt Snyder
Thursday, the Baseball Writers Association of America revealed that
Brewers
' outfielder
Ryan Braun
won the NL MVP. As with every vote, there was a sizeable amount of fan outrage on Twitter and our message boards from those who disagreed with the vote. Braun is a deserving winner and most certainly should have finished second, if not first. There's no reason for anger over the decision, so we're not taking that direction here. I respect the process and respect the voters who disagree with me,
like my friend and colleague Danny Knobler
. But if I had a vote, I would have gone Kemp first and Braun second.
First of all, the only reason Braun beat Kemp in the voting is because his team was better. That's it. If you ignore team performance, Kemp wins the award over Braun. Period. Braun even admitted as much.
"The reason I won is [Brewers management] put a better team around me," he said Tuesday.
My feeling is that the MVP is an individual award. Baseball is a team sport, yes, but the Brewers were rewarded with a postseason berth. They went to the NLCS while Kemp and his
Dodgers
were stuck at home in October. But if you look at the MVP, it's for the most valuable player in the league. The "value" argument to many boils down to how much a player helps his team win. OK, fine. Let's look.
Contrary to seemingly popular belief, the Dodgers weren't "terrible" and didn't "suck." The Dodgers won 82 games in 2011. They were three games over .500 with two superstars -- Cy Young winner
Clayton Kershaw
obviously being the other -- and a cast of marginal players. How many do you suppose they win without Kemp utterly carrying the offense?
Meanwhile, the Brewers had
Prince Fielder
-- who finished third in MVP voting -- in the lineup with Braun. They had one of the most dangerous offenses in the NL. They had a star closer and good starting pitching. Are we really going to penalize Kemp and give Braun an individual award based upon Braun having better teammates? That's out of whack, right?
The next argument for the "winning team" camp is that Braun's at-bats were tougher since he was playing in a pennant race. C'mon. These are professional athletes. Playing professional baseball is a very competitive job. If a player struggles, he risks losing his livelihood. Kemp just signed an eight-year, $160 million contract, so he's now set for life. What if he gave up and quit trying in September? No deal. Every single at-bat is money for pitchers and hitters alike. This isn't Little League where they can strikeout and go home and play video games while looking forward to football season. Plus, Kemp had a terrible lineup around him, so it was tougher to get good pitches to hit in the pitcher-friendly NL West.
To reiterate, I'm not trying to denigrate Braun whatsoever. He absolutely deserved strong consideration and I would have placed him second on my ballot, if I had one. There is no reason to believe this award will be tarnished or remembered in negative fashion moving forward, because Braun is a very worthy winner. I'm happy for him and the Brewers fans who just enjoyed the best season for the franchise since the move to the National League.
I just feel like "most valuable" should basically mean "best player." Put it this way and be honest: If you were a general manager, would you want the best player, period, or the best player
from a playoff team
? If you went in a time machine back to March and had the decision to build a team around Kemp or Braun for the 2011 season, who would you pick? Again, be honest with yourself.
That's why I would have voted for Kemp. He was the better player. Having worse teammates should not lose someone an individual award.
For more baseball news, rumors and analysis, follow @EyeOnBaseball on Twitter or subscribe to the RSS feed.