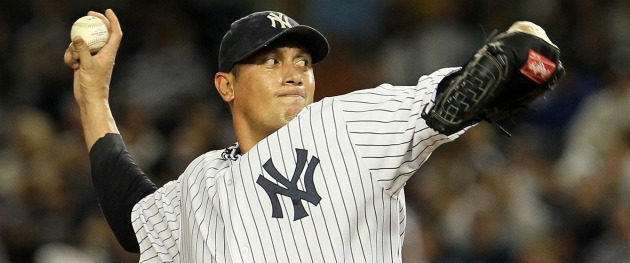 By C. Trent Rosecrans
Could the
Yankees
' rotation for 2012 bear a striking resemblance to 2011?
The team has agreed to a one-year deal with right-hander Freddy Garcia, ESPN.com's Buster Olney writes, noting the team may not add another starter -- or at least one it will count on to make its rotation. Sports Illustrated's Jon Heyman tweets the deal is worth $5 million.
With Garcia's expected signing, the Yankees could pencil in a rotation of CC Sabathia, Ivan Nova, A.J. Burnett, Garcia and Phil Hughes. That's not too much different from 2011, although the team could still look through the scrap heap like it did last offseason when it signed Garcia and Bartolo Colon.
While the Yankees' rotation was its weak spot, it wasn't so weak that it stopped New York from winning baseball's toughest division. The team could go into the 2012 season with this rotation and look to acquire a starter at the deadline. Some of the more interesting names scheduled for free agency after the 2012 season -- meaning they could be trade bait at the deadline -- include Zack Greinke, Francisco Liriano and Carl Pavano, while another group has team options, including Dan Haren, Jake Peavy, Ervin Santana, Fausto Carmona, Jorge De La Rosa, Tim Hudson and James Shields.
It will be interesting to see how the new free agency compensation rules change the way teams approach their free-agent players.
New York offered Garcia arbitration on Wednesday. The 35-year-old was 12-8 with a 3.62 ERA in 26 games in 2011, including 25 starts. Garcia struck out 5.9 batters per nine innings (96 strikeouts in 146 2/3 innings) and had a 4.36 xFIP (fielding independent pitching, normalized for park factors). He made $1.5 million in 2011.
Follow the latest free agent moves with the CBSSports.com Free Agent Tracker.
For more baseball news, rumors and analysis, follow @eyeonbaseball on Twitter or subscribe to the RSS feed.