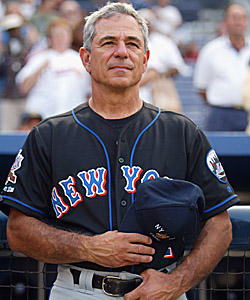 By Matt Snyder
Bobby Valentine will be named the next manager of the Boston
Red Sox
at a 5:30 p.m. news conference on Thursday, capping off one of the weirdest managerial searches in recent memory.
First, the Red Sox were going to hire someone from their first wave of interviews. Then the
Cubs
hired Dale Sveum and all of a sudden the Red Sox went back and started over, expanding their search. Then we heard reports that a manager would be named Tuesday,
only to find out that would be delayed until later in the week
. Tuesday, the saga took another turn.
Karl Ravech of ESPN -- the studio host of Baseball Tonight, not a reporter, mind you --
tweeted that Gene Lamont had been eliminated
from contention for the manager job. That would leave only Valentine as a candidate, so the logical conclusion was that he would be hired.
Nick Cafardo of the Boston Globe then reported
that Valentine is the choice over Lamont "but that could change."
Lamont hadn't been notified of anything, according to Danny Knobler of CBSSports.com. And
Alex Speier of WEEI.com
had a team source that says reports indicating Lamont is out were "not true."
And Cafardo noted
there hadn't been any contract negotiations between Valentine and the Red Sox.
Then came the
report from ESPNBoston.com's Gordon Edes
that Valentine will be hired (later
confirmed by Sports Illustrated's Jon Heyman
and the
Boston Globe's Peter Abraham
, before the AP's report).
The AP report says the two sides are working on finishing the deal, but Valentine is currently in Japan, though other reports note he's due back on Wednesday.
Valentine, 61, managed the
Rangers
for parts of eight seasons and then the
Mets
for parts of seven seasons. He won two NL wild cards and one NL pennant with the Mets and has 1,117 wins against 1,072 losses in his managerial career. Valentine also served as a manager in Japan for several years and is currently a baseball analyst for ESPN -- a position he'll obviously leave to take the Red Sox job.
Valentine has a huge contingent of fans who seem to hate him while others love him. He once wore a "disguise" (a fake mustache) in the dugout after being ejected from a game and has always been rather boisterous. Now he'll be the head of one of the most polarizing teams in baseball that is coming off an epic collapse followed by a nightmare of an early offseason.
Basically, if nothing else, this is going to be entertaining.
For more baseball news, rumors and analysis, follow @EyeOnBaseball on Twitter or subscribe to the RSS feed.