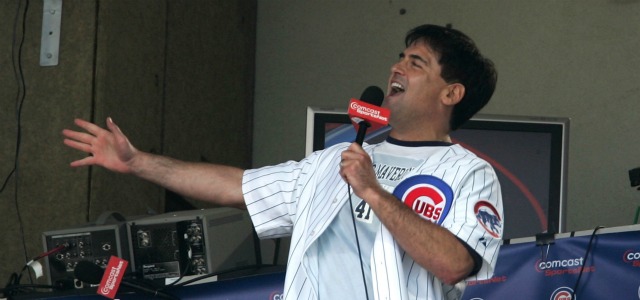 By C. Trent Rosecrans
Like he did when the Rangers were for sale, Dallas Mavericks owner Mark Cuban says he'll join the bidding for the Los Angeles Dodgers, which could begin next week, according to the Los Angeles Times.
According to the report, the investment bank in charge of the sale is expected to provide prospective buyers financial data in a bid book, and Cuban told the newspaper he "will see a book."
Cuban had recently said he was interested in the Dodgers, but not at the reported $1 billion price tag.
That price was floated before Frank McCourt reached a settlement with Major League Baseball that would allow him to sell the team, but keep ownership of the parking lots at Dodger Stadium.
Cuban has long been the pipe dream for Dodgers fans, dreaming of new ownership to replace McCourt. That said, it could be interesting to see how Major League Baseball would deal with Cuban, who is probably the most outspoken owners in American sports. He's been repeatedly fined for comments and actions by NBA commissioner David Stern, and if there's one thing we know about Bud Selig, it's that he doesn't like his owners stepping out of line. However, Selig has repeatedly said he'll leave his spot as commissioner when his contract runs out after the 2012 season. While not many believe that, the recently completed collective bargaining agreement could signal the end of Selig's reign. By the time Cuban took over, he may be someone else's problem.
Cuban bid on the Rangers last season and had also pursued the Cubs, when that franchise was for sale. Cuban recently said he wasn't interested in buying the Braves, if they were for sale, telling the Atlanta Journal-Constitution that he preferred "franchises that need a lot of help."
For more baseball news, rumors and analysis, follow @eyeonbaseball on Twitter or subscribe to the RSS feed.