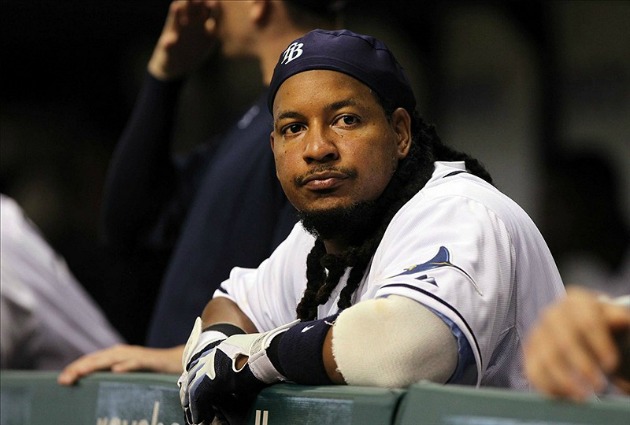 By C. Trent Rosecrans
Manny Ramirez wants to return to baseball, but the real question may be, does baseball want Manny Ramirez?

Ramirez, 39, retired in April after he faced a 100-game suspension after his second violation of Major League Baseball's Joint Drug Prevention and Treatment program. Major League Baseball announced Ramirez has applied to be reinstated from the retirement list. In addition, MLB announced Ramirez would only have to serve 50 games of his suspension if he is signed.
Of course, it takes a team to take him before he could actually start his suspension, much less play. Ramirez not only has baggage, but also is limited to just designated hitter now, narrowing the market further for the slugger. He's also unlikely to be welcome in Boston, where he played from 2001-2008. The Rays could be somewhat interested in a return, while maybe the Orioles would be interested, since that seems to be the last stop for designated hitters before retirement and they're now lead by the man who signed Ramirez in Boston, Dan Duquette. Toronto could also be a possibility. Perhaps more likely, Ramirez could declare himself available and un-retired, but have no teams interested.

"Manny is always interesting and he's never predictable, but I don't know too much about the mechanics of what we would have to do or if we could do it," Duquette told the Baltimore Sun. "Manny is always a lot of fun to be around and he is very entertaining."
Ramirez managed just one hit -- a single -- in 17 plate appearances for the Rays in 2011. Last offseason, the Rays were the only taker on Ramirez and signed him to just a $2 million contract -- before the suspension. Any team signing him would likely sign him for much less.


For more baseball news, rumors and analysis, follow @eyeonbaseball on Twitter or subscribe to the RSS feed.