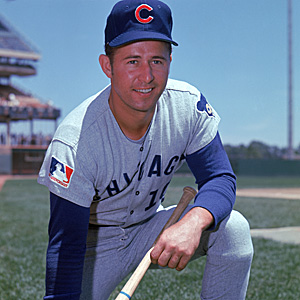 By Matt Snyder
DALLAS -- In a moment that has to be described as bittersweet to the Santo family and
Cubs
fans alike, former third baseman Ron Santo has been elected into the Major League Baseball Hall of Fame. He received 15 of 16 possible votes from the Golden Era Committee, comprised of Hall of Famers, executives and media members.
The announcement was made Monday morning at the MLB Winter Meetings.
Santo died at the age of 70 just over a year ago, which is what makes the moment bittersweet. Many felt Santo should have been a Hall of Famer years ago, and now he's been elected after his death.
In a 15-season career, Santo hit .277/.362/.464 with 342 home runs, 1,331 RBI, 1,138 runs and 365 doubles. He won five Gold Gloves, finished in the top 10 of MVP voting four times and was a nine-time All-Star.
The last time Santo was on the BBWAA ballot, he received just 43.1 percent of the vote. He needed 75 percent to be elected. He was then left out by failing to gain enough votes from the Veteran's Committee the following several years. This time around, the Golden Era Committee came through for Santo.
Members of the Golden Era Committee: Hank Aaron, Al Kaline, Ralph Kiner, Tommy Lasorda, Juan Marichal, Brooks Robinson, Don Sutton, Paul Beeston, Bill DeWitt, Roland Hemond, Gene Michael, Al Rosen, Dick Kaegel, Jack O'Connell Dave Van Dyck and Santo's former teammate, Billy Williams.
Santo was the only player on the ballot to be elected by the committee. The other players on the ballot were Gil Hodges, Minnie Minoso, Tony Oliva, Jim Kaat, Allie Reynolds and Luis Tiant. Executives Charlie Finley and Buzzie Bavasi were also on the ballot.
A candidate needed 12 of 16 votes to make the Hall of Fame. Kaat received 10 votes. Minoso and Hodges got nine, while Oliva received eight.
Major League Baseball commissioner Bud Selig issued the following statement:
"This is a great day for baseball and for Cubs fans everywhere. I am thrilled that the memory of my dear friend Ron Santo will be preserved forever in the halls of Cooperstown. As a star player and a beloved broadcaster, Ron was a staple of the Cubs' experience every single day for decades, representing all the goodwill of both the franchise and the game he loved.
"I always admired Ron's courage and loyalty, and I miss him very much. Today, I am so proud to know that his contributions to baseball will receive the highest honor. On behalf of Major League Baseball, I congratulate Ron's wife Vicki, their four children and their grandchildren."
For more baseball news, rumors and analysis, follow @EyeOnBaseball on Twitter or subscribe to the RSS feed.