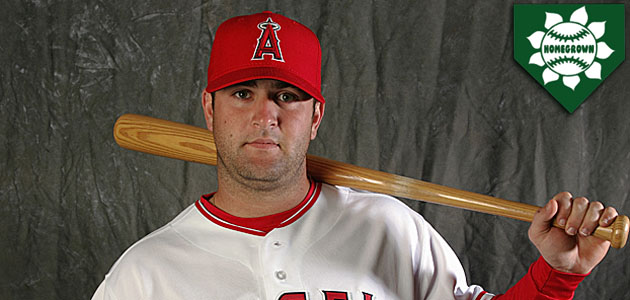 By Matt Snyder
What if players were only permitted to stay with the team that originally made them a professional? No trades, no Rule-5 Draft, no minor or major league free agency ... once you are a professional baseball player, you stay in that organization. This series shows how all 30 teams would look. We give you: Homegrown teams. To view the entire schedule and past posts, click here.
While we slog through all the rumors and real-life moves provided by the Winter Meetings, we're here with your daily break from reality. This time around, it's the Los Angeles
Angels
of Anaheim.
Lineup
1.
Erick Aybar
, SS
2.
Casey Kotchman
, 1B
3. Howie Kendrick, LF
4.
Mike Napoli
, C
5.
Mark Trumbo
, DH
6.
Mike Trout
, RF
7.
Sean Rodriguez
, 2B
8.
Alberto Callaspo
, 3B
9.
Peter Bourjos
, CF
Note:
Kendrys Morales
is here, too, though he's been down with a broken leg for almost two seasons. If healthy, he figures in the DH/1B mix prominently, likely pushing Trumbo to the bench -- but I'd hear arguments for Kotchman to sit instead.
Starting Rotation
1.
Jered Weaver
2.
Ervin Santana
3.
John Lackey
4.
Tyler Chatwood
5.
Joe Saunders
Bullpen
Closer -
Francisco Rodriguez
Set up -
Jordan Walden
,
Bobby Jenks
,
Darren O'Day
,
Sean O'Sullivan
,
Trevor Bell
,
Kevin Jepsen
,
Jose Arredondo
Long -
Ramon Ortiz
Notable Bench Players
Hank Conger
,
Jeff Mathis
,
Alexi Casilla
and that's about it.
What's Good?
The front of the starting rotation with Weaver and Santana is very good. The bottom of the lineup is pretty strong, relatively speaking, as those guys could be two-hole hitters on many teams.
What's Not?
There just isn't much exciting about this group. The middle of the lineup is thin, until Trout becomes a star. There is no depth and the rotation is a bit lackluster with Lackey and Saunders, at this point.
Comparison to real 2011
The real-life Angels finished 86-76 and 10 games behind the
Rangers
in the AL West. They hung around in the wild-card race until the last week of the season, too. While this team certainly isn't terrible, I feel like it's worse than 86 wins. Maybe they could approach .500, but there's just not enough here to be a playoff contender in this fictitious exercise.
For more baseball news, rumors and analysis, follow @EyeOnBaseball on Twitter or subscribe to the RSS feed.