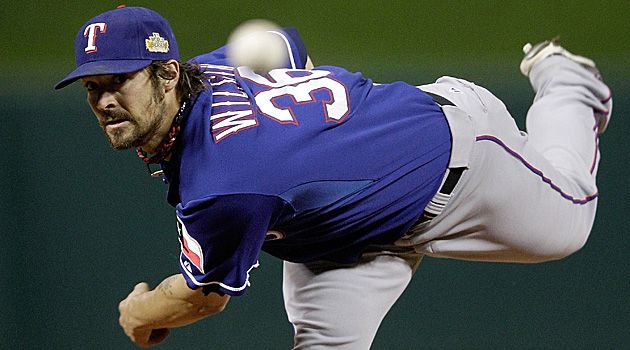 By Matt Snyder
DALLAS -- Remember back in October when
Angels
' owner Arte Moreno said the team had no money to spend in free agency? He was evidently playing an incredible ruse on the rest of us. Not only did the Angels land the biggest fish of all Thursday morning -- signing
Albert Pujols
-- but they have also nabbed free agent starting pitcher
C.J. Wilson
, the club announced Thursday. Wilson has been signed to a five-year, $77.5 million contract,
reports Jon Heyman
. CBSSports.com's Danny Knobler has confirmed the news and the dollar figure.
Wilson, 31, is a born-and-raised Californian. He was born in Newport Beach and attended high school at Fountain Valley. He then played college ball at Loyola Marymount -- in Los Angeles. In fact, the
Marlins
offered Wilson a six-year deal worth a good amount more money. Scott Miller of CBSSports.com reports the
Miami offer was up to $99 million
-- and Wilson's representatives believe the
Marlins would have gone over $100 million
. Plus, there is no income tax in Florida. So, as opposed to the what appears to have happened in the Pujols situation, Wilson wasn't chasing the money. Sure, he's not anywhere close to being poor, but it appears he left lots of money on the table to go back home.
"The Marlins definitely were the frontrunner for a while -- they offered the most lucrative deal and the most freedom, too," Wilson said in the Hilton Anatole lobby Thursday. "But by no means was I trying to break the bank here. If it was about the money, I'd be a Marlin."
"You could say it's a hometown discount," he said, noting he's been getting tons of calls and text messages from excited family and friends back in California.
Wilson went 16-7 with a 2.94 ERA, 1.19 WHIP and 206 strikeouts in 223 1/3 innings during the 2011 regular season, qualifying for his first All-Star Game. Also keep in mind the
Rangers
played in the most hitter-friendly park in the majors in 2011, and Wilson's road ERA was a sparkling 2.31.
On the flip-side, Wilson had a bad showing in the postseason, specifically with control -- this coming from a guy who constantly throws up the hash-tag #throwstrikes on Twitter before his starts. In 23 innings during the ALCS and World Series, Wilson surrendered 20 walks. He entered Game 7 as a reliever in a pivotal moment and forced home an inherited runner with a hit-by-pitch. In his career, Wilson is 1-5 with a 4.82 ERA and 1.43 WHIP in 52 1/3 postseason innings.
Also, Wilson has only been a starting pitcher for two years. From 2005-09, he worked exclusively out of the Rangers' bullpen, even serving as closer for a bit. He was pretty good in 2007 and 2009, but had an awful 6.02 ERA and 1.64 WHIP in 2008 -- the season in which he accrued a career-high 24 saves. Prior to 2010, however, Wilson made the switch to being a starter at the big-league level. It stuck. He went 15-8 with a 3.35 ERA and 1.25 WHIP in 204 innings. His walk rate was bad, as he coughed up an AL-high 93 walks, but he still was a quality starter by nearly every measure. He got even better in 2011, serving as the Rangers' ace en route to their second consecutive World Series appearance.
Wilson did note he was disappointed that the Rangers didn't push for him very strongly.
"I would have shot myself in the foot to stay in Texas," he said.
He just didn't have the chance. In fact, Rangers general manager Jon Daniels jokingly said to Wilson, "any chance I can get you to sign with the Marlins," instead of going to an AL West rival (
per Scott Miller
).
Instead, Wilson has gotten his big payday
and
returned back home -- still in the AL West.
For more baseball news, rumors and analysis, follow @EyeOnBaseball on Twitter or subscribe to the RSS feed.