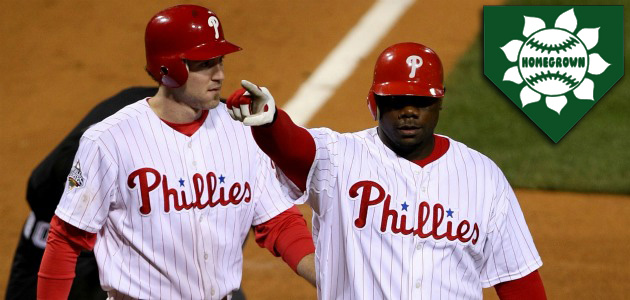 By C. Trent Rosecrans
What if players were only permitted to stay with the team that originally made them a professional? No trades, no Rule-5 Draft, no minor or major league free agency ... once you are a professional baseball player, you stay in that organization. This series shows how all 30 teams would look. We give you: Homegrown teams.
To view the schedule/past entries of this feature, click here.
The
Phillies
recently doled out $50 million to
Jonathan Papelbon
and last year gave
Cliff Lee
$120 million -- make no mistake, the Phillies are a large-market club using its money to lure top free agents. They've also sent prospects to get
Roy Halladay
in recent years, so there's been enough talent in the system to lure other teams into making big trades. This team knows what it wants and goes and get it -- by any means necessary. In this exercise, that's not possible. The Phillies, in this hypothetical, aren't the prohibitive favorite they were for the majority of 2011, but they're hardly the
Cubs
.
Lineup
1.
Michael Bourn
, CF
2.
Jimmy Rollins
, SS
3.
Chase Utley
, 2B
4.
Ryan Howard
, 1B
5.
Scott Rolen
, 3B
6.
Marlon Byrd
, LF
7.
Domonic Brown
, RF
8.
Carlos Ruiz
, C
Starting Rotation
1.
Cole Hamels
2.
Gavin Floyd
3.
Vance Worley
4.
Randy Wolf
5.
Brett Myers
Bullpen
Closer -
Ryan Madson
Set up -
Antonio Bastardo
,
Alfredo Simon
,
Brad Ziegler
,
Michael Stutes
,
Kyle Kendrick
Long -
J.A. Happ
Notable Bench Players
Nick Punto
can play a ton of positions, but, well... There's also
Pat Burrell
and
Jason Jaramillo
, which may not be deepest bench.
What's Good?
The lineup -- when healthy -- is still pretty darn good. The rotation, while not exactly the historic rotation that the Phillies rolled out in 2011, is nothing to sneeze at and the bullpen is deep and talented. There's a bit to like here in all aspects of the game.
What's Not?
The health question, and age, are huge here. Utley, while still a very good player when he's on the field, he's had a multitude of injuries. Rolen played in just 65 games last season (for the
Reds
). Brown has yet to establish himself as an everyday player, but he is talented. And then there's the bench, which has Punto to play every position, but not much else.
Comparison to real 2011
This team may be in the wild card race, but there's no way it finishes 102-60. That said, there's a chance it could compete for the NL East title (even though I do love the
Braves
chances in this exercise). The starting pitching isn't as good, but the bullpen has enough arms to keep things close. There's also so depth that's not listed on this roster in guys like
Kyle Drabek
,
Carlos Carrasco
and
Josh Outman
that aren't going to wow you, but certainly help depth-wise and could play a role as a spot starter or in the bullpen in the course of a long season. The Phillies may buy some players, but they've also developed enough to stay competitive.
Next:
Chicago
White Sox
For more baseball news, rumors and analysis, follow @eyeonbaseball on Twitter or subscribe to the RSS feed.