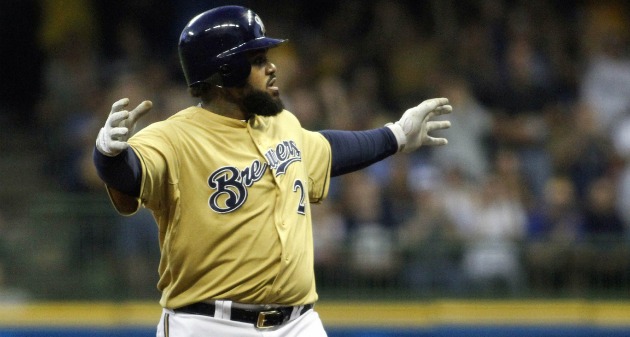 By C. Trent Rosecrans
Despite statements that made it sound otherwise, the Marlins may not necessarily be out of the running for Prince Fielder.
While team president David Samson said the team never "pinpointed" Fielder, owner Jeffrey Loria didn't rule him out when asked by Joe Capozzi of the Palm Beach Post.
"I don't know about that," Loria told Capozzi. "I don't know. We'll see."
Earlier during the press conference to introduce Mark Buehrle, Samson was asked if the team turned its attention to Fielder after losing out to Albert Pujols.
"We withdrew (the Pujols) offer once we signed Buehrle," Samson said (via Capozzi). "We never had pinpointed Fielder by any stretch at all. It was always Albert from the beginning as someone we were gonna look at. The number one priority was Jose (Reyes) on the position side and Mark on the pitching side.
"Albert Pujols was an interesting fit if it worked at our parameters and it didn't. We moved on. We never viewed Prince the way we viewed Albert, either on or off the field. Albert Pujols is the best hitter of our generation, your generation and my son's generation. There's Albert and then there's everyone else when it comes to that type of franchise-changing contract."
For more baseball news, rumors and analysis, follow @eyeonbaseball on Twitter or subscribe to the RSS feed.