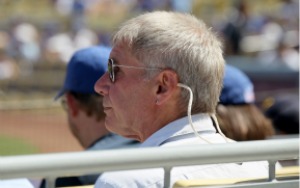 By C. Trent Rosecrans
Is general manager the new glamor profession for the movies?
First Brad Pitt and now Harrison Ford are playing baseball GMs in movies. Pitt, of course, in Moneyball, and now Han Solo himself as Branch Rickey in an upcoming movie about Jackie Robinson by Legendary Entertainment.
Chadwick Boseman, who played Floyd Little in 2008's The Express, will play Robinson.
The movie, tentatively titled 42, will be written and directed by Brian Helgeland, who wrote the screenplay for Mystic River and L.A. Confidential and also wrote and directed A Knight's Tale. Helgeland's father is a Brooklyn native.
There's no release date yet, but it's doubtful it'd be ready before opening day 2013.
It seems like the next logical move is Ben Affleck playing Theo Epstein in a movie, although the tone may change after Epstein ditched Affleck's beloved Red Sox for the Cubs.
For more baseball news, rumors and analysis, follow @eyeonbaseball on Twitter or subscribe to the RSS feed.