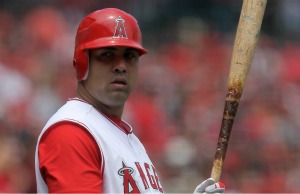 By C. Trent Rosecrans
You might have heard, but the Angels signed a first baseman. So the question was what they may do with their other first basemen, Mark Trumbo and Kendrys Morales.
While it has been mentioned that Trumbo could be moved to third base or a corner outfield spot (which is still to be seen), the team could non-tender Morales, who will be eligible for arbitration. He made $2.975 million in 2011, but hasn't played since breaking his left leg in 2010. The Angels, however, will tender him a contract, Angels general manager Jerry Dipoto said during Saturday's press conference for Albert Pujols and C.J. Wilson.
Angels manager Mike Scioscia said he expected Morales to not only return to the Angels' lineup, but also bat cleanup, presumably as the team's designated hitter.
"The one thing that sets us up really well if Kendrys Morales is coming back; just his presence, being from the left side," Scioscia said (via MLB.com). "Right now, a player like Albert, there's really only one way to protect him. One is get guys on base in front of him, and the other is to have some depth behind him that will take advantage when they walk him, or he gets on base a lot, too. So I think we're going to get guys in front that hopefully are not going to set the table, but be able to run and get in scoring position and do things that you want for the middle of your lineup."
Of course, last spring training there was hope Morales would be able to return early in the season and he never played. I'll wait to see him on the field before I put him in any lineup.


For more baseball news, rumors and analysis, follow @eyeonbaseball on Twitter or subscribe to the RSS feed.