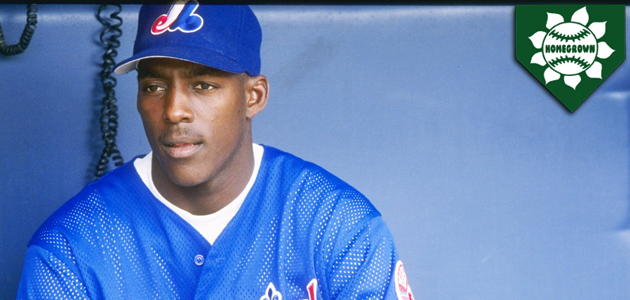 By Matt Snyder
What if players were only permitted to stay with the team that originally made them a professional? No trades, no Rule-5 Draft, no minor or major league free agency ... once you are a professional baseball player, you stay in that organization. This series shows how all 30 teams would look. We give you: Homegrown teams.
To view the schedule/past entries of this feature, click here.
We continue the series today with the Washington
Nationals
/Montreal Expos. Yeah, remember them -- the best team in baseball in 1994 before the strike ended the season without a World Series? If you don't, you'll need to be reminded of a certain
Bartolo Colon
trade, which ended up being awful for the Expos, who got 17 starts from Colon after coughing up three future All-Stars for him. What we see is a team that looks pretty good, but has loads of young talent either already developing in the bigs or soon to be arriving.
Lineup
1.
Grady Sizemore
, CF
2.
Brandon Phillips
, 2B
3.
Ryan Zimmerman
, 3B
4.
Vladimir Guerrero
, RF
5.
Jason Bay
, LF
6.
Danny Espinosa
, 1B
7.
Ian Desmond
, SS
8.
Brian Schneider
, C
Starting Rotation
1.
Cliff Lee
2.
Stephen Strasburg
3.
Jordan Zimmermann
4.
Javier Vazquez
5.
John Lannan
Bullpen
Closer -
Drew Storen
Set up -
Bill Bray
,
Craig Stammen
,
Collin Balester
,
Miguel Batista
Long - Armando Galarraga,
Brad Peacock
, Tom Milone,
Ross Detwiler
Notable Bench Players
Bryce Harper
,
Chris Marrero
,
Wilson Valdez
, Anthony Rendon,
Jamey Carroll
,
Orlando Cabrera
,
Geoff Blum
and
Roger Bernadina
.
What's Good?
The starting rotation is really good, especially if you start to think about the future. Much like the real Nats, Peacock, Milone and Detwiler all have the potential to break through and really make this a strong top-to-bottom rotation. Here, you have a perennial Cy Young candidate sitting at the top, too. The batting order definitely has the potential to be good, but there are a lot of question marks, so we can't really be overly excited about it. But, much like with the rotation, there is some serious potential on the way in Harper and Rendon. Finally, the bench is really good. This team has depth.
And in case you're curious, the three All-Stars the Expos gave up for Colon were Sizemore, Phillips and Lee. None of the three had made their major-league debut at the time of the trade.
What's Not?
If we were really going to stick Vlad in right field, we'd have to pray no one hit the ball out there. Should I have gotten more creative and put Vlad at first, moving Espinosa out to right? Maybe. We could move Vlad to 1B and throw Harper into the fire, play Bernadina in the outfield and move Vlad to first or just bench Guerrero. I'm open to any idea, but the idea I used was to maximize the offense. Hey, it worked when the
Cardinals
put
Lance Berkman
in right this past real season, right? Also, Schneider is a pretty bad catching option at this point, but there were
zero
other options on current 40-man rosters or in free agency in the MLB (which is what we used to build these rosters). Finally, the bullpen is very thin in front of Storen in the late innings.
Comparison to real 2011
The real-life Nats are just on the cusp of breaking through, though it'll be tough in the stacked NL East. These Nats would be a bit better with the legitimate ace Lee and a great bench. Maybe mid-80s in wins, but with tons of help on the way. Much like with the real Nats, it's kind of a "watch out next year" type deal -- with the likes of Harper, Rendon, Peacock and Milone waiting in the wings while Strasburg, Zimmermann, Storen, Espinosa et al continue to get better.
Next:
Boston
Red Sox
For more baseball news, rumors and analysis, follow @EyeOnBaseball on Twitter or subscribe to the RSS feed.