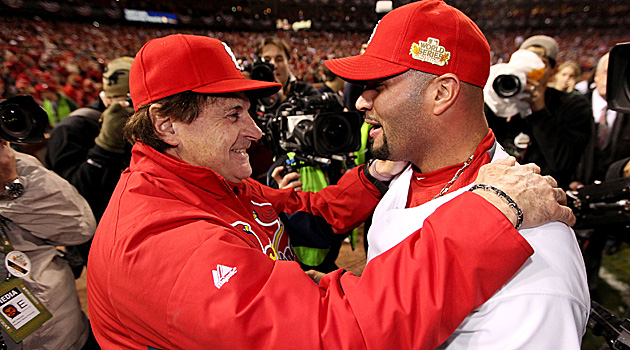 By Matt Snyder
The
Cardinals
losing
Albert Pujols
was "unavoidable," says former manager Tony La Russa,
according to the St. Louis Post-Dispatch
. The now-retired manager seemed to defend both the Cardinals and Pujols -- who signed a 10-year, $254 million contract with the
Angels
-- and La Russa instead specifically blamed "the system."
"I know it was a painful decision and it pains [Pujols] now," La Russa said (
Post-Dispatch
). "He deserves what he got. He earned it. There's no bad guy here. I think the Cardinals went where they thought they should go. If they can't go farther, they shouldn't."
The full story, written by Joe Strauss, is definitely worth a read and I'm not going to sit here and copy and paste the thing. Just go read his original version. La Russa was mostly being political in trying to defend both sides, though he certainly seemed intellectually and emotionally honest. It sounds like he truly loves the Cardinals organization, Cardinals fans and Pujols, so La Russa obviously wasn't going to bash anyone. He did point out one glaring mistake, though.
"I think he made a mistake when he said it wasn't about the money," La Russa said (
Post-Dispatch
). "If the Angels had offered the same exact thing he would have gone back to the Cardinals. I think his point was he was ready to sign for less than the best offer. I think he's sincere. I think he was trying to make it work. But you had a club that made an overwhelming offer."
And that's the point. People who make five figures a year don't want to hear about how it's not about the money when a player signs with the highest bidder. We aren't stupid. If you are going to say it's not all about the money, you better be like
C.J. Wilson
and actually leave money on the table -- putting your money where your mouth is, if you will. Taking the most money doesn't make someone a bad person. Far from it. I've long defended athletes who take the highest offer because most human beings would do the same. But if you sign the contract with the most money, patronize the fans in a different manner -- saying it's not about the money just doesn't sound honest. And there's no way to prove otherwise.
For more baseball news, rumors and analysis, follow @EyeOnBaseball on Twitter, subscribe to the RSS feed and "like" us on Facebook.