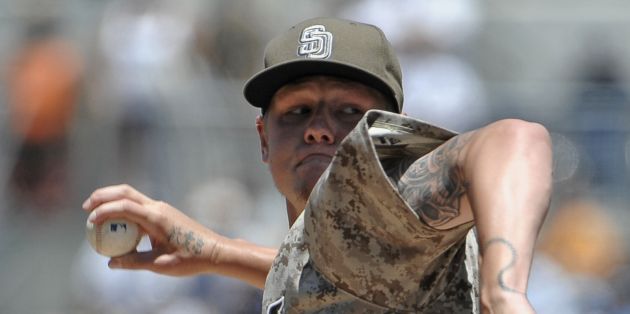 By C. Trent Rosecrans
Every trade happens for a reason -- or two reasons, actually. One for each side. With Saturday's big deal between the Reds and Padres, we'll look at the reasons for both sides. You can read the Padres' reasons here, but here's why the Reds sent four players to San Diego for right-hander Mat Latos:
When the Reds won the National League Central in 2010, Edinson Volquez was their starter in Game 1 of the National League division series against the Phillies against Roy Halladay. Halladay, of course, no-hit the Reds that night, while Volquez was lifted before the end of the second inning, having allowed four earned runs and was saddled with the loss. The need for a true No. 1 was evident even before that game, but became more dire afterward.
In 2011, Johnny Cueto took a step forward and showed he may be the future ace the team needed. But it still needed a No. 2 -- enter Latos. The 24-year-old went 14-10 in 2010 with a 2.92 ERA and was a Cy Young candidate in 2010. He took a bit of a step back in 2011, going 9-14 with a 3.47, with his walk rate increasing by half a walk per nine innings and his stirkeout rate dropping just a tad more than that.
Saturday, Latos said he learned from his 2011 to trust himself and not worry about where he was pitching or who he was pitching against. The results show someone who may have learned, going 5-10 with a 4.04 ERA in the first half of the season and 4-4 with a 2.87 ERA in the second half, and bettering his strikeout-to-walk ration from 2.45 before the All-Star break and 3.83 afterward. Opponents' batting average on balls in play dropped dramatically from .314 to .258 in the second half, but his strikeouts also increased.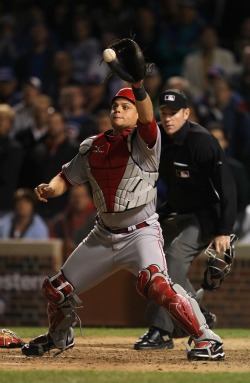 Reds general manager Walt Jocketty said he felt Latos could pitch in Great American Ball Park, which is about as different from the pitcher-friendly Petco Park as you can get.
There's no question that Latos improves the Reds' rotation, joining Cueto, Bronson Arroyo, Mike Leake and Homer Bailey -- as well as Aroldis Chapman, who will be used as a starter in spring training, at least. But that's not the only reason the Reds made the move.
First of all, Latos will be a Red for years to come. He's under team control through 2015 and isn't arbitration eligible until the 2013 season. He's also just 24, having celebrated his 24th birthday little more than a week ago.
By dealing Alonso and Volquez, the Reds now have more money to play with in free agency or to take on salary. Alonso signed a big-league deal after being drafted and is due $1 million in 2012, while Volquez is arbitration-eligible and could make as much as $2.5 million next season, while paying Latos at or near the minimum.
Like Alonso, Yasmani Grandal signed a big-league deal after he was drafted, so the net move is two more spots on the team's 40-man roster.
"We've got some things on the back burner and the front burner," Jocketty said. "We're trying to do one more deal for pitching and we're looking at potential free agents for offense."
The roster spots and money cleared give the Reds a little more room to make those kinds of deals. They do have fewer prospects, though. The Reds still need a closer (or could use Chapman) and are looking to upgrade their left field options.
Alonso, Grandal and reliever Brad Boxberger were all ranked as top 10 prospects in the Reds system for 2012 by Baseball America. It's a heck of a haul for the Padres. That said, the top two prospects -- Alonso and Grandal -- at least, were redundant to the Reds.
Alonso is the team's top prospect at first base, but the Reds already have an MVP at first base -- or at least they do for the next two seasons before Joey Votto becomes a free agent. He tried to play left field, but not too many in the Reds organization felt he could actually do it.
And then there's Grandal, the team's top pick in the 2010 draft. The switch-hitting catcher was rated the fourth-best prospect in the Reds' system, but the second-best catcher behind Devin Mesoraco (pictured). The Reds allowed Ramon Hernandez to exit via free agency because Mesoraco no longer has anything to prove at the minor-league level and can team with Ryan Hanigan as a solid catching tandem for the next couple of years. Hanigan, a very good defensive catcher with a good on-base percentage, is under team control through 2014.
While Boxberger is seen as a possible closer, he's still a reliever, and a Triple-A one at that. Jocketty said without Boxberger the deal probably wouldn't get done, and if the Reds really wanted to get Latos, Boxberger wasn't going to stand in the way.
And then there's Volquez. The Reds sent Volquez to Triple-A twice in 2011 to try to get his control issues straightened out, but he never seemed to get it fixed. Voqluez wasn't being counted on in the rotation and didn't really have a place on the roster -- and could cost some money.
There's no doubt the Reds paid dearly -- more than one front-office person told me the Reds grossly overpaid and I tend to agree -- but Jocketty dealt from positions of depth. The deal could hurt the Reds, but losing those players may not hurt them as much as it would another team. The 2012 Reds are better today than they were Friday. With Votto's time in Cincinnati apparently closing in on its last two years, the Reds wanted to make a play in the National League Central that no longer has Albert Pujols, may not have Ryan Braun for 50 games and could still lose Prince Fielder, and they did that by adding Latos.
For more baseball news, rumors and analysis, follow @eyeonbaseball on Twitter or subscribe to the RSS feed.