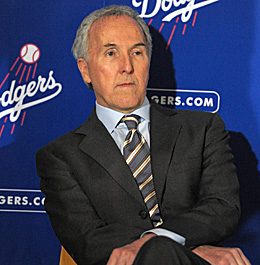 By Matt Snyder
Here comes a story that is
surely
going to make the already
very
popular Frank McCourt even more beloved among loyal
Dodgers
fans.
McCourt, the man who currently has the Dodgers in bankruptcy court, is basically being forced to sell the Dodgers -- as Los Angeles fans rejoice -- but he's reportedly indirectly advising prospective buyers to raise ticket prices.
According to the
Los Angeles Times
, the "bid book" that McCourt and his attorneys have put together for parties interested in buying the Dodgers notes that the Dodgers had the 10th highest average ticket in the majors last year, despite playing in the second-largest market (I wonder if it notes the pesky little detail that the L.A. market is split with the
Angels
?).
The LA Times report also notes the Dodgers' revenues have declined each year since 2008 and that the club's debt exceeds $599 million.
Also of note, the Dodgers only sold 64.7 percent of their tickets last season. So now is as good a time as any to drive even more fans away by raising ticket prices, right Frank?
As I said, Dodgers fans have to just love this man.
For more baseball news, rumors and analysis, follow @EyeOnBaseball on Twitter, subscribe to the RSS feed and "like" us on Facebook.