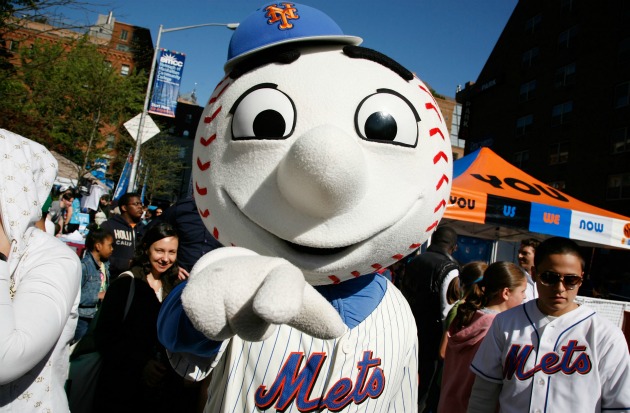 By C. Trent Rosecrans
For $250 you can get a share in the NFL's Green Bay Packers, earning a nice little certificate and the right to call yourself a part owner of the Super Bowl champs. But for just $19,999,750 more, you can hang out with Mr. Met, and can you really put a price tag on that?
The Mets are searching for 10 or so minority partners to buy four-percent shares in New York's National League franchise for a paltry $20 million each.
The New York Times recently got the summary sheet for interested bidders and passed along the listed perks:
• Access to Mr. Met, although the terms of access are vague. For my $20 million, I want a night of debauchery in Las Vegas with Mr. Met -- nothing like a guy with a giant baseball head making it rain.
• A business card that says "owner." Of course, I already have one of those because you can get a whole box of 200 on the internet for $20 (just $20, not $20 million).
• An invitation to a "owner's workout day" so you can run around the bases at Citi Field. I did that once before too, but it was kid's day and they said I couldn't run the bases because I was too old, but I didn't listen and did it anyway. And it only cost me a $23 ticket from a scalper.
• A parking spot. I don't really need it, I prefer to take the subway when I go to Citi Field.
• A chance to throw out a first pitch every year. From the field, not the stands as you curse out David Wright.
• A team executive that will help with tickets and other needs, although extra tickets may cost extra.

• Hot dogs, green grass all out at Shea, guaranteed to have a heck of a day.
Presumably, you also get an invitation to the comedic stylings of the Wilpon family revue. Oh, and there are promises that an investor can get their money back after six years. Seriously, how could a financial deal with the Wilpons not work out? I know I'll be checking my piggy bank and see if I can maybe talk them into a cool looking certificate too.
For more baseball news, rumors and analysis, follow @eyeonbaseball on Twitter or subscribe to the RSS feed.