By Matt Snyder
Marlins
outfielder
Logan Morrison
is quite the character, and he's built a pretty big following on Twitter based mostly on his sense of humor. I'll say this, even if he's not always hilarious, he's definitely interesting. Thursday afternoon, Morrison decided to play a prank on his followers by "reporting" that "Prince to Seattle is a done deal." Screen-grab: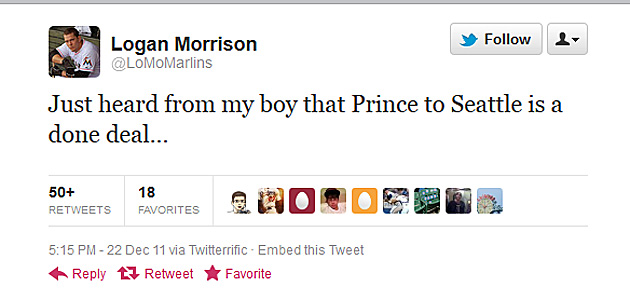 Obviously, Morrison wasn't serious -- as he later pointed out -- but even more obviously, a good amount of people believed him. My first thought when I saw the tweet was, "here we go, tons of people will believe him." Sure enough, a good amount did -- witness the "50+" retweets (though, in fairness, lots of them knew it was a joke). Still, chalk one up for Morrison on the prank front for today, as he achieved exactly what he wanted to.
For more baseball news, rumors and analysis, follow @EyeOnBaseball on Twitter, subscribe to the RSS feed and "like" us on Facebook.